"Wen Gott lieb hat, den lässt er fallen in dieses Land."
(Whom God loves, he places in this land.)

---
Population: 8,000. Country-Area code: +49-(0)8652.
Elevation: 530 m (1,740 ft). License plate: BGL (short for Berchtesgadener Land).
After the founding of Salzburg in 696 A.D. came the first mention of many settlements in the area, including the forest in front of the snow-peaked Watzmann (Germany's second-highest mountain at 2,712 m/8,900 ft).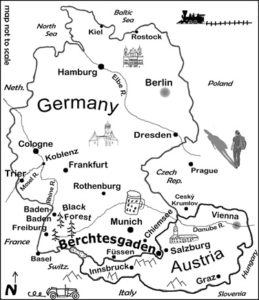 In the 11th century, Lord Perther arrived and built a hunting cabin that became known as Perther's Gaden. From this moniker evolved the name Berchtesgaden.
In 1102, Augustinian monks settled here and began building a monastery with an adjoining church; look for the twin spires rising above town. The holy men were determined to achieve this symbolic feat as they had first proclaimed Perther's Gaden "…a terrifying forest constantly covered with ice and snow… a vast solitude inhabited by wild beasts and dragons," according to David Harper, co-founder of Eagle's Nest Historical Tours.
Frederick I (Barbarossa), Holy Roman Emperor and king of Germany from 1152-90, was delighted to hear of this fruitful monastery that neighbored the ever-annoying archbishops of Salzburg who boasted abundant deposits of salt. Barbarossa was quick to grant the monks extra rights to hunt, fish, forest, cultivate, and develop mines to excavate the "white gold" on their side of the border. Salt was the key resource in these parts that assured Berchtesgaden unusual power for such a small enclave, securing a political voice in the Reichstag (or parliament) and ultimately the right to become an independent principality ruled by prince-provosts. Even today salt remains king, accounting for a wealth of wellness centers and the official title of Kurgebiet, or health-resort region.
The following centuries brought social woes to the Catholic settlement: salt squabbles continued with Salzburg, the Thirty Years' War raged across Europe, and Protestant ways became covertly trendy.
In 1803, Napoleon dashed in with his battle-hardened Grand Armée and seized Berchtesgaden in one swoop. The monastery was consequently disbanded and church administration secularized. In the years to follow, Berchtesgaden was tossed around like a political football. First it was annexed to Salzburg under Habsburg rule before finally being restored to Bavaria in 1810. This attracted the Bavarian royal family who in 1818 refashioned the former monastery to a palace in which to relish the majesty of summer vacation in the lower Alps. (Perhaps Ludwig II garnered his fantastic inspirations in this idyllic corner of the kingdom while hiking alpine trails as a boy?)
The 20th century produced two world wars. The first was fought in the distant trenches of France and Belgium, but the second came knocking at Perther's front door. Adolf Hitler became chancellor of Germany in 1933 and decided to figuratively pitch his tent in the Gaden, calling it home. Hitler began the Second World War that Germany grossly lost. Thankfully, the Allied band of brothers safeguarded the hallowed Augustinian seat, securing its prosperity for centuries to come and your timely visit.
---
Join our Germany & Austria Highlights tour and visit Berchtesgaden with Harriman
---
Brett Harriman's Berchtesgaden-Eagle's Nest guidebook is updated for 2016!
(The 2016 edition of "Self-guided Berchtesgaden, Obersalzberg & Hitler's Eagle's Nest" has been retired. The upcoming edition will not be sold as an individual title but instead will be placed within our new Self-guided Munich, Ludwig's Castles & Hitler's Eagle's Nest guidebook that is in the works.)
Purchase this essential "Self-guided Berchtesgaden, Obersalzberg & Hitler's Eagle's Nest" resource that bundles together the do-it-yourself destination guides for Berchtesgaden, the Eagle's Nest, the subterranean depths of a World War II bunker, and Obersalzberg 1933-1945.
This guide is an absolute must-have for independent travelers and military buffs interested in this picturesque corner of Bavaria that was once Nazi southern command and the seat of an empire. Moreover, author Brett Harriman has meticulously composed the information within this guide to educate you with local knowledge and history so you can make informed decisions that save time, as well as money, while leading to new adventures and acquaintances along the way.
(For sale at Amazon, click above graphic to read reviews of the book and browse its interior via the Look Inside feature.)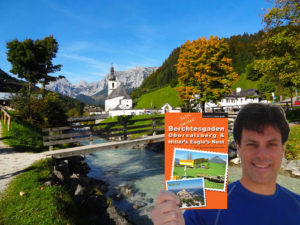 PART I:
IMAGINE pine-fresh air, quaint Bavarian farmhouses, onion-domed churches, and mountain rivulets cutting through lush meadows home to lethargic cows playing tunes with the bells hanging from their necks. Picture men clad in lederhosen, women wearing dirndls, girls sporting pigtails, and hikers clutching ornamented sticks seemingly within arm's reach of jagged peaks belonging to gigantic mountains. It's authentic Bavaria; it's Berchtesgadenerland, the real deal, and waiting for your visit!
(Click here to view PART II on our Eagle's Nest page.)

(The following two entries — Suggested Itinerary & TI — Harriman lifted from his guidebook:)
Suggested Itinerary:
The big three blockbuster attractions in Berchtesgaden are the salt mines, Eagle's Nest at Obersalzberg, and Königssee lake in the national park. If you start first thing in the morning (May-Oct), you can… (the remainder of this section you can find in our guidebook for sale above).
In addition to the abovementioned itinerary and attractions, consider a revitalizing visit to the Watzmann Therme for a vacation from your vacation (indulge in a swim, soak, Jacuzzi, full-body massage). With extra time, join the guided mountain hiking program offered free by the Nationalpark Berchtesgaden association or on your own trek the untamed and unforgettable Almbach Gorge. Swing by the Grassl Enzianbrennerei for free samples of liqueur and schnapps. If you're visiting in winter, experience the bobsled thrill of a lifetime or the forbidding custom that is Krampus.
(Königsseer Strasse 2, tel. 08652/9670, Mon-Fri 8:30-17:00, Sat 9:00-12:00—June thru mid-Oct Mon-Fri till 18:00, Sat 9:00-17:00, Sun 9:00-15:00). Berchtesgaden's main TI is located opposite the train station, other side of the traffic circle. Stop in for your free town map, free Wi-Fi (log on to Berchtesgaden-Koenigssee), or to book a room. A second, small TI (Mon-Fri 9:00-18:00, Sat/Sun 10:00-13:00 & 14:00-18:00) is located inside the Kongresshaus, adjacent to the Franciscan church cemetery, across from the main pedestrian zone in town.

For more information on Berchtesgaden, Obersalzberg & Hitler's Eagle's Nest purchase Harriman's self-guided book on Amazon:
---
Note: Information on this page Harriman lifted from his guidebook.
(Last updated May 2018)