Population: 14,500. Elevation: 750 m (2,460 ft).
Country-Area code: +49-(0)8362. Sister city: Helen, Georgia.
License plate: OAL (short for the district of Ostallgäu, to which Füssen belongs).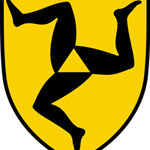 Situated 5 km (3 mi) from the royal castles of Neuschwanstein and Hohenschwangau, Füssen is the southern end of Germany's Romantic Road and the last Bavarian community before crossing the Austrian border. Commanding Füssen's skyline is Hohes Schloss, a landmark fortress securing the frontier since the Middle Ages. In its shadow is Füssen's quaint Old Town, accented by crooked lanes sweeping past medieval architecture, Hollywood's chosen backdrop for the escape scenes in the 1963 movie classic "The Great Escape" starring Steve McQueen.
Although Füssen recently celebrated its 700th birthday, the town really dates from Roman times when Emperor Claudius forged the north-south trade route, Via Claudia Augusta, and garrisoned his troops here. Funnily, the name Füssen translates to "feet"; perhaps suggestive of the emperor's legions of boots on the ground.
---
Join our Germany & Austria Highlights tour and visit Füssen with Brett
---
Tourist information,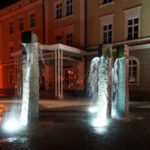 (www.fuessen.de, Kaiser Maximilian Platz 1, tel. 08362/93850, Mon-Fri 9:00-17:00 [April-Oct till 18:00], Sat 9:30-13:30 and Sunday in summer 9:30-12:30) is centrally located a few-minute walk from the train station. Out front of the TI is a cluster of stone columns capped by rotating blocks that compose a mesmerizing arrangement of fountains, which at night are even more entrancing when illuminated. TI has brochures in English, free town map, Internet computer (1€/15 min or free use for overnighting guests), and convivial staff often clad in traditional costume. Note: If you arrive after hours use the 24hr self-service info kiosk out front to find a room or snag a brochure.

Railers,
most of you are here for one reason: to visit Schloss Neuschwanstein. Trains shuttle between Munich and Füssen every hour (2hr trip) but note that every second train is non-stop. For example, from Munich trains depart for Füssen :52 min past every hour but departures on the odd hour (e.g. 7:52 and 9:52) are direct while departures on the even hour (e.g. 8:52 and 10:52) require one change. From Füssen trains depart for Munich :05 min past every hour but departures on the even hour (e.g. 16:06 and 18:06) are direct while departures on the odd hour (e.g. 17:05 and 19:05) require one change. If you are not traveling on a railpass, purchase the Bayern-Ticket to cover all your train and bus travel for the day. Once at Füssen, buses (73 & 78 depart roughly every 30 min Mon-Fri and hourly Sat-Sun, 7-min ride, adult 2.20€ one way 4.40€ round trip—youth 6-15yr half price) and taxis (10€ one way) depart from outside the station to the castles. Station has lockers, 2€/3€/24hr. Bike rental available in shop at end of track (typically mid-March thru Oct Mon-Fri 9:00-12:00 & 14:00-18:00, Sat 9:00-13:00 & Sunday in good weather, from 10€/day: tel. 08362/505-9155, www.ski-sport-luggi.de). Across the street is the post office (Mon-Fri 8:30-12:30 & 14:00-17:30, Sat 8:30-12:00) and a short distance farther at the traffic circle is a Netto discount grocery store (Mon-Sat 7:00-20:00). Note: If you have time, 15-90 min, browse Füssen's Old Town. You'll find a charming pedestrian zone, a beautifully Baroque church, and a medieval fortress. (Exit station and follow foot-and-car traffic a few short min straight up to the grocery store, TI, and main pedestrian drag: Reichenstrasse.
Drivers,
surprisingly, traffic can get congested in Füssen. To avoid the snarl, park in one of the pay garages and survey the town on foot (roughly 1.40€/hr, 9€ max, or metered street parking 50¢/30 min), or park free in lot P2 off Kemptener Strasse (GPS: N47 34.096 E10 41.322) opposite gas station, an easy 10-min walk from town.

Sights: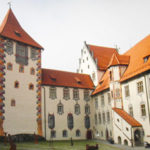 Besides a picturesque Old Town and cobbled pedestrian zone, Füssen features a glorious monastery, a massive fortress, and a waterfall called Lechfall set in a scenic gorge (pictured). At the southern end of the main shopping street (Reichenstrasse) is the beautiful parish church St. Mang, which is attached to the former Benedictine Monastery St. Mang that originally dates from the 8th century but renovations 1,000 years later reflect its Baroque character. Within this holy complex is the heritage museum "Museum der Stadt Füssen" (adult 6€, student 4€, April-Oct Tue-Sun 11:00-17:00, Nov-March Fri-Sun 13:00-16:00) exhibiting the history of Füssen, including its rare collection of lutes and violins as well as Bavaria's oldest Dance of Death painting cycle (Totentanz, circa 1602; the museum can be found in the Rathaus courtyard around the corner from the parish church). Towering above St. Mang is Hohes Schloss, a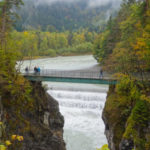 14th-century powerhouse fortress and former summer residence of the prince bishops of Augsburg. To reach its fascinating yet faux three-dimensional inner courtyard (pictured; painted in a way that deceptively leads visitors into believing that the oriels, window frames and corner embossing are genuine), climb the path running alongside the parish church St. Mang. The bishop's former living quarters now accommodate a painting gallery displaying late-Gothic and Renaissance works from regional artists. Scale the corner tower "Fallturm" for wowing views (free typically April-Sept 11:00-16:00). Fifteen minutes by foot southwest of the castle is the deep and narrow Lechfall gorge (that I call the "washing machine"); Drivers heading to (Reutte/Tirol) Austria will pass Lechfall en route (with few parking spaces available).
End of the Romantic Road: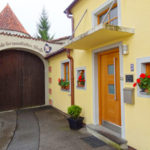 You may know that Füssen marks the southern end of Germany's Romantic Road, but did you know that there really is an end point? Follow me and I'll walk you past the Franciscan monastery to the landmark archway (pictured). — From the TI in the Old Town (it's a 10-min trek), take the main shopping street (Reichenstrasse) to the end, go left, and follow the street (Lechhalde) down toward the river (passing the Kelari Greek tavern on the right, listed under Good Eats in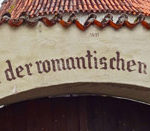 Harriman's guide). Don't cross over the bridge, instead step just to the right of it and continue to the riverbank. Cross underneath the bridge and continue straight on the cobbled riverside path (away from fortress). When the cobbled path turns to asphalt, go left then right and climb the stairway (54 steps) to the end of the Romantic Road (on right). — The heraldic shields you see flanking the archway represent the two communities at the southern and northern ends of the Romantic Road (Füssen, "Feet," on the left and the two-tone flag of Würzburg on the right)
–
Wieskirche,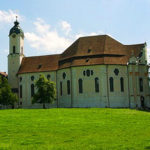 www.wieskirche.de, daily 8:00-17:00, April-Oct till 20:00, but visiting is restricted during Mass, thus avoid the following times: Sat 10:00-12:00; Sun 8:00-13:00; Wed 10:00-12:00; Tue 10:00-11:00; and Fri (April-Oct) 17:00-20:00.
Some 45 km (27 mi) south of Landsberg, and 22 km (13 mi) north of Hohenschwangau, you'll discover the Wieskirche, a gloriously scenic "Church in the Meadow." In 1740, a chapel was built to pay homage to a wooden likeness of Jesus allegedly seen weeping. The Christ-like figure, located at the high altar and known as the Scourged Savior, became an object of worship for pilgrims Europe-wide. To handle the influx, a significant church was built in the meadow by the artistic brothers Dominikus and Johann Zimmermann. Dating from 1754, the Wieskirche just celebrated its  260-year anniversary. And there is much to celebrate; the church's heavenly interior accented by a confection of swirling ornamentation is arguably Germany's most dazzling example of Rococo-style, earning a place (since 1983) alongside the Taj Mahal and the Acropolis as an esteemed member of UNESCO's World Heritage List. That said, the interior of St. Peter's Church in Salzburg, in my opinion, is equally as stunning. Toilets (WC, .50ȼ) are located at the first souvenir kiosk in the parking area.
Drivers, (GPS: N47 40.943 E10 54.013), turn off Romantic Road at the north end of Steingaden and follow the brown Wieskirche signs (5 km mostly uphill) to the church; parking 2€/hr (2hr max, pay automat and leave receipt on dashboard of car). Railers, because the church is isolated, connections are limited. Your best bet is bus 73 (but the bus number may also appear as 9606, 9651) departing Füssen train station typically 8:05, 9:45 (except Sat-Sun), 12:40/12:45, 13:05, 14:05 (except Sat-Sun), 45-min trip. (Note: There are later buses but none return. Check times in advance in case of changes.) From Wieskirche back to Füssen, buses typically depart 11:06, 13:55, 15:00 (except Sat-Sun), and last bus 15:40. The Romantic Road "Touring" bus is scheduled to stop here for 15-20 minutes (daily April 11 thru Oct 17, 2016 northbound direction Rothenburg) at 8:35 and (daily April 10 thru Oct 16, 2016 southbound direction Füssen) at 19:35.
---
Note: Information on this page Harriman lifted from his guidebook.
(This guide will be updated and placed within our new Self-guided Munich, Ludwig's Castles & Hitler's Eagle's Nest guidebook that is in the works.)
(Last updated May 2019)