Population: 13,000. Elevation: 574 m (1,882 ft). Country-Area code: +43-(0)5223.
License plate: IL (short for Innsbruck Land, belonging to the rural district around Innsbruck).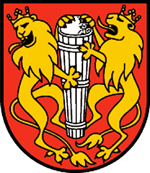 First mentioned in 1256, Hall is roughly the same age as Innsbruck. Although much smaller than its sprawling Olympic neighbor, Hall in the Middle Ages wielded tremendous power, owing to its abundance of salt. The financial boon of the so-called "white gold" is translated in the town's Celtic name, "Hall," meaning salt, as well as illustrated on its coat of arms (pictured), two heraldic lions clutching a drum of salt. While Innsbruck was barely more than its namesake bridge over the Inn River, Hall already had some 3,000 inhabitants by the 1400s; practically a city in those days. As Hall's population and salt production grew, so did its economy. Merchants from all over Europe converged on Hall, thus the jumble of currencies from umpteen fiefdoms was, to say the least, confusing. To help counter this monetary melee, in 1477 Duke Sigmund moved the royal mint to Hall. This is where the story becomes utterly familiar. You see, in 1486 the mint began stamping what became known as the Haller Taler. This unsuspecting silver coin, the Taler has been repackaged, redesigned and resold throughout the ages, becoming a timeless piece of history that can still be found today in the pockets of millions of us across the world—known as the dollar.
Located a mere 7 km east of Innsbruck, Hall is an easy side trip via bus, which drops off near the recommended Mint Museum. Hall is picturesque like Innsbruck, with quaint cobbled lanes and colorful facades, but much quieter with a fraction of the tourists. Moreover, Hall's Old Town is a fair bit bigger than Innsbruck's. So, with extra time in your schedule, visit the home of the original dollar and its charming Tyrolean backdrop. And if you're holding a valid Innsbruck Card, the bus ride to Hall and admission into its Mint Museum is free!

Brett Harriman's Innsbruck (incl. Hall in Tirol) guidebook is updated for 2016!
(This guide will be updated and placed within our new Self-guided Vienna & Innsbruck guidebook that is in the works.)
Download this essential "Innsbruck, Edelweiss & Cable Cars" resource bundled with three self-guided day tours:
Day 1: Old Town to the Alps —
Day 2: Crystal Worlds to Schloss Ambras —
Day 3: Self-guided Adventure and Nature Tour on the Zirbenweg.
This guide is a must-have for independent, budget-minded travelers headed to the Tyrolean capital, known as the "Treasury of the Austrian Alps." Moreover, author Brett Harriman has meticulously composed the information within this guide to educate you with local knowledge and history so you can make informed decisions that save time, as well as money, while leading to new adventures and acquaintances along the way.
US$2.95, pdf file format, 19 mb, 21 pages, 3 maps

This purchase is for the immediate pdf file download; (download to your computer, iPad, or compatible mobile device)


(The following museum entry Harriman lifted from his guidebook:)
The Mint Museum, locally Münze Hall (Tue-Sat 10:00-17:00, Sun also April-Oct, last entry 16:00, closed Jan 1-4, & Jan 17 thru March 14, Sept 24, Nov 1, Dec 24-26 & 31—adult 8€, student/senior 6.50€, youth 5.50€, family 18€, or free with Innsbruck Card, www.muenze-hall.at), is located at Burg Hasegg, within a 90-second walk from either the Unterer Stadtplatz bus stop or the P5 parking lot. First mentioned in the 13th century, Burg (or "castle") Hasegg was originally built to safeguard the salt mines as well as the salt route and river trade before it became favored as a royal residence (in the 15th century) and the preferred home of the mint (in 1567). The former mint, a museum since 2003, leads visitors (with the assistance of a hand-held audio guide) on a historic and interactive tour of coin production from the 15th century. One of the many tour highlights is the wowing view of the Inn Valley and Alps from the Mint Tower (Münzerturm), Hall's lofty landmark, symbolic of power and wealth in its day (185 steps, not covered by Innsbruck Card, thus pay cashier adult 5.50€, student/senior 5€, family 13€. Pictured: view from Mint Tower). Near the end of the tour, look for the provided pencil and paper to etch a copy of the Taler. In the gift shop, you can even stamp your own Taler (from 2€) with an antique screw press.
---
Note: Information on this page Harriman lifted from his guidebook.
(Last updated January 2019)