AUTHOR'S NOTE:
The Eagle's Nest this year (2020) will remain closed until further notice due to the CV-19 pandemic. Every year the opening of the Eagle's Nest varies between May and June depending on the weather but always closes at the end of October. For example, in 2019 the Nest was open June 8 thru October 31, otherwise the property is closed the remainder of the year due to mammoth amounts of snow.
---
Join our Germany & Austria Highlights tour and visit the Eagle's Nest with Brett
---
PART II:
Besides swooshing through salt mines and gliding across the idyllic waters of Königssee (Germany's only fjord-like lake), you'll get a better understanding of what once was the seat of an empire on Obersalzberg. For example, page 20 (in Brett's guidebook due out later this year) narrates the mountain's history followed by the section Obersalzberg Today; then Obersalzberg 1933-45 (pages 21-30), a fascinating do-it-yourself recount of how the Alpine redoubt looked during the Third Reich. Page 31 begins the reader on a do-it-yourself subterranean journey into a network of tunnels (World War II bunker at the Hotel Türken) laced with machine-gun nests leading to Hitler's former mansion, the Berghof. And pages 35-40 lift the reader up to 6,000 feet for the history of the Eagle's Nest and a do-it-yourself tour of the mountain-top property. Information you won't find anywhere else, but here!
(Click here to view PART I on our Berchtesgaden page.)

Brett Harriman's Berchtesgaden-Eagle's Nest guidebook is updated for 2016!
(The 2016 edition of "Self-guided Berchtesgaden, Obersalzberg & Hitler's Eagle's Nest" has been retired. The upcoming edition will not be sold as an individual title but instead will be placed within our new Self-guided Munich, Ludwig's Castles & Hitler's Eagle's Nest guidebook that is in the works.)
Purchase this essential "Self-guided Berchtesgaden, Obersalzberg & Hitler's Eagle's Nest" resource that bundles together the do-it-yourself destination guides for Berchtesgaden, the Eagle's Nest, the subterranean depths of a World War II bunker, and Obersalzberg 1933-1945.
For the independent traveler and military buff, this guide is a must-have! Why pay to join a tour when you can do all the sights yourself. Brett Harriman has personally led some 6,000 tourgoers to these breathtaking Bavarian heights, now it's your turn to make the journey. Think Hitler's former neighborhood, a maze-like bunker system, and the soaring Eagle's Nest. Situated 25 km from Salzburg, Austria, and two hours south of Munich, this Alpine region boasts some of Germany's most beautiful scenery!
(For sale at Amazon, click above graphic to read reviews of the book and browse its interior via the Look Inside feature.)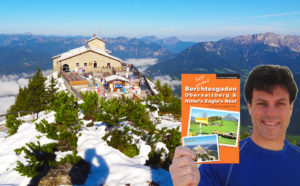 ---
(This page was last updated May 2020)