Population: 130,000. Country-Area code: +43-(0)512.
Elevation: 575 m (1,886 ft). Sister city: New Orleans, Louisiana. License plate: I.
Late in the 12th century, a bridge was built here over the Inn River—hence the settlement we know today as Innsbruck, meaning "bridge over the Inn." Essentially a crossroads between the German and Italian territories north and south of the Alps, Innsbruck thrived on the heavy influx of merchants and their goods.
During medieval times, members of the dynastic Habsburg family moved to Innsbruck and established alpine settlement as the imperial capital of the province of Tyrol. Although the monarchy died out nearly 100 years ago, Innsbruck is still the capital of Tyrol, one of Austria's nine federal states.
Innsbruck's Altstadt, or Old Town, is well-preserved and at its core is the city's most admired site: the Golden Roof, crowning the former residence of Tyrolean monarchs. Tourists flock here soon after arriving in town to snap a picture of its shimmering tiles. Neighboring arcades and lanes are lined by shops and cafés fronting Gothic-style facades painted in a spectrum of soft colors. During your explorations you'll notice most all of Innsbruck's buildings are painted in pastels. Tradition dictates that a building cannot be painted any other color than its original shade. Thus, if you were to visit Innsbruck again in 100 years, the same building will be the same color. And stringent building codes ensure that any new construction projects complement the style of the existing buildings, thus the Old Town can stay true to its medieval charm.
Ideally living in the heart of Europe, citizens of Innsbruck can readily gallivant across international boundaries. If they desire bona-fide Italian pizza or pasta for dinner, Italy is a mere 35 km (22 mi) to the south. If a precision watch or an original Swiss army knife is on the shopping list, Switzerland—along with Liechtenstein—can be reached within two hours heading west. And in less than half that time, Innsbruckers traveling north can cross the German frontier and test drive the latest BMW at speeds that in your home town would earn you a date with a judge and hefty fine to boot.
Referred to as the treasury of the Austrian Alps, Innsbruck is famous for its winter sports and has twice hosted the Winter Olympics, in 1964 and 1976. Listed as the only major city in the Alps, Innsbruck is not surprisingly surrounded by a majestic curtain of mountains, which include nine ski areas totaling some 300 km (186 mi) of slopes and 90 lifts, exclusively grouped and marketed as Olympia SkiWorld that is reachable by free shuttle bus and inclusive multi-day lift passes as low as 128€ per adult. (You never have to ski the same slope twice.) And since 2008, a sleek railway system has been transporting adventurers directly from the town center to a waiting cable car and into the Alps within 30 minutes (to the Seegrube ski area, which is also popular in summer for hiking and rock climbing).
The water in Innsbruck is alpine fresh, streaming down from the mountains pure and enriched with minerals. Fill up your water bottle at any one of the city's numerous fountains—unless it says "Kein Trinkwasser" meaning, not for drinking!
Getting high in Innsbruck is easy, from climbing the City Tower to meeting mountain animals in Europe's highest zoo, and from visiting the Olympic ski jump to exploring alpine summits (see Sights section beginning on page 6). But that's not all: Purchase the Innsbruck Card (page 4) and the city is yours on a platter. This is the best-value welcome card offered by any city that I know! To help make your stay efficient and cost-effective, everything I've listed in the aforesaid Sights section is free with the Innsbruck Card and set up as a two-day do-it-yourself tour, beginning with (Day 1:) Old Town to the Alps, and (Day 2:) Crystal Worlds to Schloss Ambras.

Brett Harriman's Innsbruck guidebook is updated for 2016!
(This guide will be updated and placed within our new Vienna & Innsbruck guidebook that is in the works.)
Download this essential "Innsbruck, Edelweiss & Cable Cars" resource bundled with three self-guided day tours:
Day 1: Old Town to the Alps —
Day 2: Crystal Worlds to Schloss Ambras —
Day 3: Self-guided Adventure and Nature Tour on the Zirbenweg.
This guide is a must-have for independent, budget-minded travelers headed to the Tyrolean capital, known as the "Treasury of the Austrian Alps." Moreover, author Brett Harriman has meticulously composed the information within this guide to educate you with local knowledge and history so you can make informed decisions that save time, as well as money, while leading to new adventures and acquaintances along the way.
US$2.95, pdf file format, 19 mb, 21 pages, 3 maps

This purchase is for the immediate pdf file download; (download to your computer, iPad, or compatible mobile device)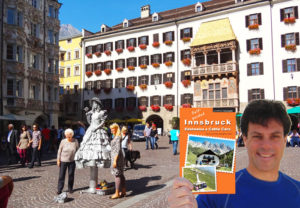 Suggested Itinerary:
Innsbruck is worth at least a two-day stay. Divide your time like so,
Day 1: Begin early (9:00-9:30) and set off on my do-it-yourself orientation tour of the Old Town (page 6). Buy the 48-hour Innsbruck Card (page 4) to visit sites of interest. Note: All the attractions listed in my Sights section are free with the Innsbruck Card and are set up as a two-day do-it-yourself orientation tour. Included with the latter Card, the hop-on hop-off Sightseer bus will deliver you to each outlying attraction, making it almost effortless to see all of Innsbruck.
Day 2: Continue my DIY sightseeing tour using your Innsbruck Card, or substitute Day 2 (page 11) with my self-guided adventure and nature tour (page 18).
Day 3: With an additional day pay the extra 7€ to buy the 3-day Innsbruck Card and set off on my Self-guided Adventure and Nature Tour on the Zirbenweg (page 18). Another fun and one-of-a-kind option is the guided mountain hiking program offered free throughout summer and into the fall (daily May 23 thru Oct 23, 2016) by the good folks at Innsbruck tourism. Imagine delicate alpine flora, Tyrolean mountain huts, bell-wearing cows, and jagged peaks rising like giant fingers pointing to the angels as you're led through this breathtaking backdrop by a certified guide from the Alpine School of Innsbruck. Hard to pass up; this tourism freebie also includes your transportation into the Alps, and hiking boots if required. To qualify for this exceptional program (ages 8yr to seniors 60yr+) there is no previous mountaineering experience necessary, but you do need to be in good physical condition and you must stay the night in Innsbruck (i.e. to help support the local economy), which you likely are since you're still reading, so no problem. Ask at your accommodations for the (free) Guest Card (Gästekarte), which you present to the guide. The hiking program and departure schedule is listed in the first section of the "Active Summer" booklet available at the TI (tourist information office), and possibly at your accommodations. Hikes depart a little after 9:00 thus meet your guide at around 8:50 outside the main entrance of the Congress Center at Rennweg 3 (which I walk you past on my do-it-yourself Old Town tour beginning on page 6). The hike is typically of "medium" difficulty and generally lasts around four hours (but it can return as late as 17:00). Bring along something to drink (e.g. bottle of water), a pair of socks (if you plan to borrow hiking boots), sun protection (if you have some), and money (like 20€) so you can eat/drink with the group at one of the rustic mountain huts en route. To tide you over, consider packing some snacks or fruits (page 5 Grocery Stores). Lastly, your guide will present you with a little "Mountain tour book," a kind of passport, to log all your future hikes and collect stamps from the huts. And you're rewarded, too, for the number of hikes you achieve here in Innsbruck. For example, your first hike merits you a "bronze" edelweiss medallion (about the size of a 2-euro coin), the third hike a "silver" medallion, tenth hike "gold," and on the twentieth hike "gold with rock crystal." The latter mission of 20 hikes may seem improbable but, believe it or not, in September 2008 I met Steve from New Orleans who, astoundingly, was setting off on his 180th hike into the Tyrolean Alps. Really! (Hiking picture above courtesy of ©Werfen Tourism.)

Self-guided Innsbruck:
Of the many sites listed in the Sights section, there are also three self-guided tours to experience in Harriman's guidebook.
Day 1: Do-it-yourself orientation tour of Innsbruck Old Town (pages 6-10)
Day 2: Crystal Worlds to Schloss Ambras (pages 11-14)
Day 3: Self-guided Adventure and Nature Tour on the Zirbenweg (pages 18-20 — click video below to behold the alpine beauty of the Zirbenweg)
Note: You can find heaps more information on visiting Innsbruck, as well as the full complement of our educational and intoxicating self-guided tours, in Brett's Vienna & Innsbruck guidebook that will be available for purchase in 2019.
---
(This page was last updated January 2019)