Neuschwanstein
(New Swan Stone)
in
Hohenschwangau
(High Land of the Swans)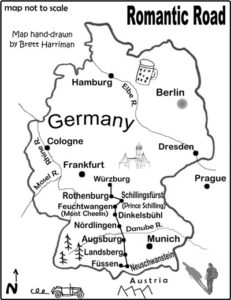 Fairy tales do exist, because this one you can visit. Parked at the foot of the Alps near the town of Füssen at the southern end of the German Romantic Road is Hohenschwangau, a nearly Austrian community of fabled castles. Schloss Hohenschwangau, built 1832-36 in neo-Gothic style, is where the fairy-tale king, Ludwig II, grew up. He especially loved playing in the garden and climbing the castle's turrets with his younger brother, Otto. At age 18, in 1864, Ludwig inherited Bavaria's throne and the title of king, enabling him to fulfill his childhood dream of building the most beautiful and luxurious castles in the land. He furnished them with murals of Wagnerian operas and medieval themes, showpiece bedrooms and gold-leaf fixtures, gaudy chandeliers and intimate grottos, even a royal bathtub large enough to accommodate the Dallas Cowboys offensive unit (that's 11 big dudes) with room to spare!
The epitome of castles everywhere is Schloss Neuschwanstein, a Ludwig fantasy made real that resurrected the storybook style typically associated with chivalry and noble knights, now one of Germany's most visited tourist attractions, accounting for some 1.5 million visitors annually. Ludwig commissioned its construction in 1869 on the scenic hillside opposite Schloss Hohenschwangau. Although Ludwig spent 17 years building Schloss Neuschwanstein, emptying Bavaria's coffers in the process, the castle was never completed and he lived in it only 170 days before his death in 1886, age 41. In the end, Ludwig's megalomania cost him the throne and his life after being declared mentally unfit to rule. In spite of a tragic conclusion, Mad King Ludwig exemplifies true medieval romanticism in modern times and gave Bavaria its moneymaking legacy of fairy-tale castles, as well as inspiration to Walt Disney for his Sleeping Beauty castle at Disneyland.
Movie buffs will recognize Füssen and its alpine environs in the 1963 film classic "The Great Escape" starring Steve McQueen, including a wowing shot of Neuschwanstein castle (airplane scene near end of movie with James Garner and Donald Pleasence). A few years later, Neuschwanstein was again fabulously featured from the air in the 1968 hit musical "Chitty Chitty Bang Bang" as Baron Bomburst's castle in fictional Vulgaria. Most recently, Hollywood featured Ludwig's storybook creation in George Clooney's 2014 film "The Monuments Men," but this time its dark Nazi past came to light. You see, in 1940, during World War II, Hitler authorized top Nazi Alfred Rosenberg to seize art and cultural objects from the occupied territories for Germany. Isolated in the Alps and far from Allied bombing targets, Schloss Neuschwanstein became Rosenberg's chosen site to headquarter his art-looting organization. In 1945, at the end of the war, members of the so-called Monuments Men, a military group comprised of museum directors, curators, art historians, artists, architects and educators, paid a visit to Neuschwanstein and discovered a trove of precious artworks, jewelry, gold and silver collections. Although Ludwig would never have approved of stolen loot on his property, the king would certainly have appreciated all the fine art — and possibly the Monuments Men.
---
Join our Germany & Austria Highlights tour and visit Schloss Neuschwanstein with Brett
---
Railers:
From *Munich catch the train to Füssen (hrly, 2hr trip) and then bus 73 or 78 to Hohenschwangau Castles (www.rva-bus.de, roughly every 30 min except hourly Sat-Sun from 13:00, 7-min ride, adult 2.20€ one way 4.40€ round trip—youth 6-15yr half price) or grab a taxi (about 10€ one way). The bus drops off at the Hohenschwangau TI, around corner from castle Ticket-Center. Note that buses and taxis depart from outside Füssen train station. If you're not traveling on a railpass, purchase the Bayern-Ticket (see below) to cover all your train and bus travel for the day. *From Munich trains depart for Füssen :52 min past every hour but departures on the odd hour (e.g. 7:52 and 9:52) are direct while departures on the even hour (e.g. 8:52 and 10:52) require one change.
Bayern-Ticket:
The Bayern-Ticket, meaning Bavaria-Ticket, is an excellent buy for individuals (25€) and small groups up to *five persons traveling for the day after 9 a.m. Mon-Fri and the whole day Sat-Sun in 2nd-class seating on non-speed trains (like RE and RB, and specifically on the "Meridian" train between Munich and Salzburg main train station, not ICE or EC) and on all public transportation within the German state of Bavaria (but not Salzburg) for a pocket-friendly price. (*The Bayern-Ticket costs an initial 25€ for the first person then add 6€ per person to a maximum of five persons, thus a two-person Bayern-Ticket costs 31€, three-person 37€, four-person 43€, five-person 49€.) The Bayern-Ticket is equally ideal from Munich if you're headed to Berchtesgaden, Augsburg, Nürnberg or Füssen (e.g. to tour Schloss Neuschwanstein), which many of you will be. You can, for example, visit any of the aforelisted destinations for the day, travel on the local trams and buses as needed, then return to Munich for the bargain price of 25€ one person or 31€-49€ for small groups up to five persons. The Bayern-Ticket is also ideal for parents (and grandparents) who can use it to travel with an unlimited number of their own children (or grandchildren) aged 14 and under.
Note: The Bayern-Ticket is valid Mon-Fri after 9:00 until 3:00 (the following morning) and the whole day Sat-Sun in 2nd-class seating on non-speed trains (like RE and RB, and specifically on the "Meridian" train between Munich and Salzburg main train station, not ICE or EC) and on all public transportation within the German state of Bavaria (but not Salzburg) for the economical price of 25€ one person or 31€-49€ for small groups up to five persons. But for this price the ticket must be purchased either online (www.bahn.de print invoice and bring it on train with your credit card), at a German rail automat, or at select public transportation automats like Munich's MVV—(automats accept all major credit cards and are multilingual). To emphasize; if the ticket is bought over the counter you will pay a 2€ surcharge (i.e. 27€ for individuals and 33€-51€ for small groups), and even more if purchased on the train.

Drivers:
Hohenschwangau is roughly 115 km (71 mi) south-southwest of Munich. At the southern end of the Romantic Road (route 17) follow signs "Königsschlösser" (meaning Royal Castles) to Hohenschwangau and Neuschwanstein. Upon arriving, park in any of the public lots, 6€/day. Note that lots are accessible 8:00 till 20:00 (stay beyond 20:00 and you'll be locked in overnight)! From the lot, follow the flow of visitors the short distance to the TI or up the road to the castle Ticket-Center (GPS: N47 33.317 E10 44.377). Since you're so close to the border, consider crossing into Austria where gas prices are cheaper. Along the way you'll pass medieval Füssen (5 km) then Lechfall, a dramatic waterfall. To reach Innsbruck from Hohenschwangau is within a 2-hour drive. First head direction Füssen, then Reutte, then route 179 (Fernpass) towards Nassereith to Telfs (route 189) and connect onto the A12 autobahn for the final 30 km into Innsbruck (but note that vehicles traveling on the Austrian autobahn are required to have a "Vignette," or toll sticker; see next entry).
Vignette 2017; Drivers (heading into Austria):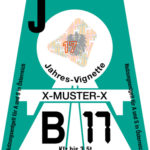 The maximum speed limit on the Austrian autobahn is 130 kilometers per hour (kph), but to drive on this efficient motorway you are required to have what's called a "Vignette," or toll sticker affixed to the windshield of your vehicle. The Vignette color this year (2017) is turquoise. If it is not this color, it's not valid! But even if it is the correct color, it still may not be valid. This is because the Vignette is sold in three (time-constrained) categories: 10 days 8.90€, two months 25.90€, and one year 86.40€. You can obtain this little decal at most any gas station approaching the border (and some gas stations within Austria). Note: Affix the Vignette to the inside corner of your windshield or behind the rear-view mirror. (Your rental car may already have a toll sticker from the previous renter; you're in luck if it's still valid.) If you happen to get pulled over without a valid Vignette, the fine is around 240€, on the spot! Lastly, the law requires that you have an international driving permit to drive in Austria (which you can typically pick up for around $15 from your local auto club).

Ticket-Center (Castles):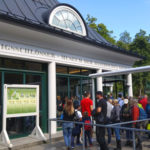 To visit either castle you have to go with a guided tour. Tickets must be bought at the Ticket-Center (pictured). Each ticket is printed with a fixed start time (Einlasszeit) and tour number; miss this time and tour and you won't get in! Note that tickets cannot be refunded or exchanged. The Ticket-Center, GPS: N47 33.317 E10 44.377, is located around the corner from the TI at the head of the parking lots; follow crowds up street and it will soon appear on the right.
Note: To avoid standing in a two-hour line to buy tickets in summer (worst case scenario you don't even get in), especially July/August, either arrive early (8:00) or *reserve your tickets at least 48 hours in advance by phone (08362/930-830), fax (08362/930-8320), or online. All major CCs accepted. *To reserve tickets in advance costs 1.80€ extra per person, per castle. Arrive at the Ticket-Center at least 1 hour before your tour is set to depart; stand in the line for "Reserved Tickets" and at the counter finalize your payment. To cancel your reservation is free of charge (you may lose your reservation fee as a penalty) but only possible at least two hours prior to your planned visiting time (you may cancel by phone, fax, or e-mail: [email protected]).
Hours: (Ticket-Center) daily, April thru Oct 15, 8:00-17:00, and Oct 16 thru March 31, 9:00-15:30. Castle hours are synchronized to open with the Ticket-Center. The duration of a tour at either castle is roughly 30 min. Note: Neuschwanstein castle is open year round with the exception of Dec 24-25, 31 and Jan 1. Hohenschwangau castle is open year round with the exception of Dec 24.
Price: Admission into either castle—Neuschwanstein or Hohenschwangau—is adult 13€, student/senior (65+) 12€, and youths 17yr or younger are free when accompanied by a parent. All major CCs accepted. To tour both castles (on the same day), as most travelers do, purchase the King's Ticket (Königsticket) adult 25€, student/senior (65+) 23€. Note: With the King's Ticket you will be scheduled to tour Schloss Hohenschwangau first then Neuschwanstein, which is fine since chronologically you'd want to begin where King Ludwig II grew up. After Hohenschwangau there will be a two-hour interval before your Neuschwanstein tour begins, which is just enough time for you to reach the tour starting point. Thus, if you do not want to be rushed so you can do a little sightseeing (e.g. visit the Marienbrücke, see below) and have lunch (sit-down restaurant or picnic and feed swans) beforehand, ask when booking your ticket that you be given 2.5 or 3 hours between tours. But whatever you do, do not be late for your tour of Neuschwanstein!
Suggested castle itinerary:
(The remainder of this entry can be found in Brett's Munich & best of Bavaria guidebook that is in the works.)

Discount Passes:
The following three passes are offered by the Bavarian Palace Department, the largest civic authority responsible for federally protected museum properties in Germany.
2 weeks or 1 year, (two-week pass adult 24€, partner 40€; year pass—valid from time of use for one year—adult 45€, family 65€): Recommended for culture vultures and long-term travelers is either the reasonably priced two-week (Mehrtagesticket) or year (Jahreskarte) pass valid for one-time entry into more than 40 of Bavaria's state-owned palaces, castles and villas, e.g. Schloss' Neuschwanstein, Linderhof, Herrenchiemsee, Munich Residenz, Nymphenburg. Note: Because Schloss Hohenschwangau is privately owned, it is not included in the pass. You can purchase either pass at the cashier of participating properties, cashier at above-listed Ticket-Center, or in Munich at the centrally located museum and palace Info-Point (in the Alter Hof, Mon-Sat 10:00-18:00). Also note that if you were to buy the pass at the above-listed Ticket-Center, the cashier will get you on the next available tour of Schloss Neuschwanstein. Travelers who already possess either pass can reserve their Schloss Neuschwanstein admission ticket in advance (for 1.80€) just like anybody else (as explained above under Ticket-Center).
Königsschlösser combination pass (24€) valid for six months and one-time entry into each of Ludwig's three royal castles: Neuschwanstein, Linderhof and Herrenchiemsee. If you only plan to visit the latter properties, this is your ticket. If you plan on visiting more royal residences in Bavaria, then either above-listed pass is for you. Note: The same Note written above is also applicable for this pass, i.e. it's not valid for Schloss Hohenschwangau.

Schloss Neuschwanstein,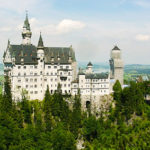 open daily year round, April thru Oct 15, 9:00 till last *tour around 17:30, (*tour duration roughly 30 min), and Oct 16 thru March 31, 10:00 till last *tour at 15:30, except closed Dec 24-25, 31 and Jan 1. Although there is no photography allowed inside the castle, the toilets are free to use(!) and free Wi-Fi is beaming—log on to BayernWLAN. (Note: For ticket prices, advance reservations, and where to go for pick-up, see Ticket-Center above.)
Debatably Europe's most famous castle, Schloss Neuschwanstein (pronounced like 'noy-shvahn-stein') dating from 1869, is one of Germany's most visited tourist attractions, netting some 1.5 million visitors annually (upwards of 6,000 per day June-Sept). Because of its commanding position high upon the hillside, Neuschwanstein took more than two decades to build (Ludwig only ever saw his new castle as a construction site). Now, more than a century later, it's your turn to negotiate the steep incline and discover Ludwig's legacy.
There are three ways to reach Schloss Neuschwanstein: by foot, by horse-drawn carriage, and by shuttle bus—but note that neither the carriage nor the bus will drop you off at the castle entrance. The carriage drops off about 10 min below the entrance and the bus 15 min above. By foot from the Ticket-Center is a steep 35-min trek to reach the castle. The horse-drawn carriage departs semi-regularly from in front of Hotel Müller (which is a bit farther along from the Ticket-Center on the right) and costs 6€ per person up and 3€ down. Pay driver. Not possible to reserve seats. Note: The ride up takes about 20 min, then you'll need to walk 10 min to reach the castle tour starting point. If you're running late, thus rushed for time to make your tour, forget the horse-drawn carriage and start jogging. Really! The shuttle bus typically ¹departs every 20 min in front of Hotel Lisl (uphill on the left roughly 150 meters beyond the Ticket-Center) and costs 1.80€ per person up and *1€ down. Note: Pay driver; not possible to reserve seats; 4-min ride. *I do not recommend you ride the bus down, as you'll need to hike 15 min back up the hill to reach the departure area. ¹The shuttle bus operates in suitable weather conditions only, i.e. no ice or snow.
Suggestion: … (The remainder of this entry can be found in Harriman's soon-to-be-released Munich & best of Bavaria guidebook out this spring and sold here via Amazon.)
Short cut: If you're finished visiting Schloss Neuschwanstein and heading back on foot to the parking lot or bus stop, look for the path on the right about one-third of the way down.
Note: Tours of Schloss Neuschwanstein take 30 min and you'll need to negotiate some 346 steps along the way (165 up, 181 down). Wheelchair-bound travelers book your tour with the Ticket-Center as usual but notify staff member of your reduced mobility. For more info on Schloss Neuschwanstein and a virtual tour, click here.

Marienbrücke,
or Mary's Bridge, dating from 1866. No visit to Schloss Neuschwanstein is complete without a promenade over Mary's Bridge, rooted 90 m (295 ft) above the Pöllat Gorge. Those who have a fear of heights (acrophobia) will find it difficult to reach the middle of the bridge, where the best photos of the castle are captured. Even Ludwig II said, "…the views are enchanting from here." Acrophobes (like me and possibly you) need to relax, get psyched, and rambo the moment. You'll be glad ya did! From the castle entrance up to Mary's Bridge is a steep, 15-min walk (follow signs Marienbrücke), or better yet catch the shuttle bus from out front Hotel Lisl (past Ticket-Center) to the castle drop off area by the bridge.

King Ludwig II: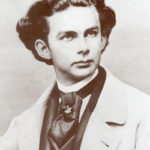 Arguably Germany's most famous monarch, Ludwig II was born on August 25, 1845, in Munich to Crown Prince Max II (King of Bavaria 1848-64) and Princess Marie of Prussia. Max II often took little Ludwig to his castle (Hohenschwangau) for a break from big-city Munich to play in this peaceful, idyllic setting with his younger brother, Otto. When it was Ludwig's turn to wear the Bavarian crown in 1864, he did a rather sloppy job, as ruling a kingdom did not come naturally. Ludwig first sided with the Austrians against the Prussians, or northern Germans, in the Seven Weeks' War, then he sided with the Prussians against the French in the Franco-Prussian War. Ludwig was more of a romantic, a pacifist, and a lover of the opera than a warmonger. Instead of riding high on a horse and heroically leading regiments into battle, Ludwig built castles—the most magnificent and luxurious in the land. However, this weird and wonderful lifestyle bankrupted Bavaria's economy. Add Ludwig's inept mode of leadership to the mix and his cabinet conspired against him. On June 12, 1886, they declared Ludwig clinically insane and exiled him to Schloss Berg at Lake Starnberg, 25 km (15 mi) southwest of Munich. The following day Ludwig drowned in knee-deep water in the lake, together with the psychiatrist who had certified him as insane. (But I wonder; how is it possible that two grown men simultaneously drown in shallow water, especially Ludwig, who was 6 feet 5 inches tall! Maybe Mad King Ludwig wasn't so "mad" after all.)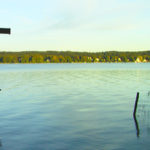 Within months of Ludwig's death, tourists were paying to see Schloss Neuschwanstein. Ludwig's legacy is without a doubt his fantastic castles. Ironically, the enormous debt he saddled Bavaria with that cost this king of hearts the throne as well as his life has been paid off a gazillion times due to popular tourism. Simply put, Ludwig equals big business! Today, a large wooden cross (pictured) rising from the shoreline of Lake Starnberg marks the spot of the king's death. Each year at this location on June 13 a costumed ceremony is held to remember his passing. To find the cross, either trek to these GPS coordinates: N47 57.843 E11 20.883 or drive to the town of Berg on Lake Starnberg and follow signs to the Votivkapelle (Votive Chapel). Park and hike the last stretch (about 20 min), mostly through an enchanting forest.

Schloss Hohenschwangau,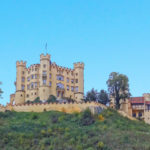 open daily year round, April thru Oct 15, 9:00 till last *tour at 17:30, (*tour duration roughly 30 min), and Oct 16 thru March 31, 10:00 till last *tour at 15:30, except closed Dec 24. Although there is no photography allowed inside the castle, the toilets are free to use! (Note: For ticket prices, advance reservations, and where to go for pick-up, see Ticket-Center above.)
Dating from 1836, this neo-Gothic style castle is where Ludwig II spent much of his childhood, dreaming of storybook castles and play-acting mythical tales. Thus it is fitting that he lived here while overseeing the construction of Schloss Neuschwanstein on the neighboring hill. If Ludwig wasn't on the construction site itself, he would peer through his telescope on the 2nd floor to keep tabs on the progress. And possibly you, too, can glimpse Ludwig's telescope on the tour, which takes about 35 min to visit 11 rooms on two floors and climb 90 steps. If time is on your side, definitely tour this residence—it's actually more interesting than Neuschwanstein. To reach Schloss Hohenschwangau's turrets is an easy 15-min climb from the Ticket-Center, or rest your feet and hop on the horse-drawn carriage (which ¹departs regularly from in front of the Ticket-Center and costs 4€ per person up and 2€ down, pay driver, not possible to reserve seats—¹except no departures in winter). Note: Because Schloss Hohenschwangau is privately owned (by the Wittelsbach family trust) it is not included in either the two-week or year pass described above. Oh, and there is no photography allowed inside the castle.

Toboggan Run,
(open in good weather—13:00-16:30—longer in summer). Within view of Schloss Neuschwanstein you can ride the kid-friendly Sommerrodelbahn, or toboggan run, 760 meters, nearly half a mile, down the lower slope of Tegelberg (Mount Tegel) on a zigzagging aluminum track with only a joystick as a brake. Yikes! One ride, locally ein Fahrt (pronounced 'fart'), costs adult 3.70€ and youth 3-15yr 2.90€, six adult farts 15.60€ (that's 2.60€ per fart) or six youth farts 12.50€ (2.08€ per fart)! To get there, GPS: N47 34.131 E10 45.401, by foot the toboggan run can be reached in less than an hour from Hohenschwangau's TI kiosk (head along Colomanstrasse about 1 mile and follow sign right, or ask at TI for shortcut). Drivers, from Hohenschwangau's TI kiosk, head along Colomanstrasse about 1 mile and follow sign right. Pay parking, daily, 7:00-22:00.
---
"Mad" King Ludwig's other fantasy castles
Note: If you plan on visiting either of the following Bavarian palaces along with another, invest in one of the three Discount Passes listed above.
Schloss Linderhof,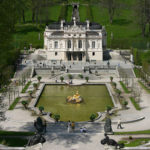 www.linderhof.de, tel. 08822/92030, closed Dec 24-25 and 31, Jan 1 and Shrove Tuesday (day before Ash Wednesday), otherwise daily: April thru mid-Oct 9:00-18:00, last tour typically 17:20—(winter months) mid-Oct thru March 10:00-16:00 last tour—adult 8.50€, student 7.50€, (1€ less in winter because palace grounds are closed), youths 17yr and younger are free when accompanied by a parent; free Wi-Fi on the grounds—log on to BayernWLAN. Note: To visit the interior of Linderhof you must go with a (25-min) guided tour. Photography is not allowed while on the tour. Reservations are not necessary. Each admission ticket, similar to Schloss Neuschwanstein, is printed with a fixed start time but also a letter (A, B, C) directing you through the correct turnstile to meet your tour group and guide. (In peak season, 40-person groups shuffle into Linderhof every 5-10 min.) Allow 75 min for a visit, including castle tour and garden stroll. The tour covers 10 rooms and concludes through the king's specially made secret door…into the gift shop!
Located some 45 km (27 mi) from Schloss Neuschwanstein and 12 km (7 mi) from the Christmassy, woodcarving village of Oberammergau near Garmisch-Partenkirchen, Schloss Linderhof is the only one of Ludwig's castles he lived to see completed. In fact, the king lived here the last eight years of his life (for about two weeks of each month). Dating from 1870, Linderhof took nine years to construct and is far better described as an ostentatious mansion than a castle. Before Linderhof was converted into a Rococo-style masterpiece, the property existed as an unpretentious hunting lodge called Königshäuschen, or the King's Little House, belonging to Max II, Ludwig's father. Due to Linderhof's isolation in the lush Bavarian hinterland, Ludwig was able to procure 143 acres of park reserve. The king commissioned Carl von Effner, a landscape specialist with experience in first cities such as Vienna and Paris, to design a network of manicured gardens and waterworks to frame the estate. Wear comfy shoes and explore its beauty, admire the expressive fountain (erupting some 70 feet into the air about every 30 min April-Sept 9:00-18:00), but dress warm October thru March because Linderhof sits at an elevation of 950 m (3,116 ft) and it can get bitter cold, early. I've been here, for example, mid-October with a foot of snow on the ground. Burr! Besides the palace and gardens, the next biggest on-site attraction is the Venus Grotto (but now closed for major renovations expected thru the year 2022!), about a 7-min (mostly uphill) trek from the palace to reach its artificial one-room water cave built for the king. Ludwig desired his own Blue Grotto like the one off the island of Capri, Italy, thus he commissioned a mini version here themed after the first act of Richard Wagner's opera "Tannhäuser." In this subterranean sanctuary, named after the Roman goddess of love, a gilded clamshell boat sits atop its tranquil waters. Ludwig could lounge the day away, dreaming of Botticelli's nude Venus and Wagner's legendary poet, however he wished. The king's head was full of dreams, fantasies of medieval romanticism and whimsical stories, ones that have evolved into real-life fairy tales and inspired millions of us to conjure epic ideas.
To get there: Drivers, GPS N47 34.186 E10 57.424, parking at Linderhof 3€. Note that during the fall and winter months, mid-October thru March, either of the following routes may be closed due to excessive snow conditions: From Oberammergau follow brown signs to Linderhof, 12 km. From Hohenschwangau head towards Füssen, then Reutte (Austria). Don't go into Reutte. At Reutte Süd follow brown signs to Linderhof. The next stretch is a stunning alpine route through an evergreen forest that parallels a scenic lake (Plansee, a perfect picnic stop) reflecting the most brilliant emerald-green waters before crossing back into Bavaria and on to petite Linderhof (Ludwig often took this route in his carriage). After visiting Linderhof, consider driving on to Oberammergau to see the famous woodcarving shops (Holzschnitzerei) and the picture-worthy houses splashed with storytelling murals. If required, there are plenty of first-rate Zimmer (bed & breakfast) in the area. Railers, (from Hohenschwangau to Linderhof is a hassle and not worth the effort), from Munich catch the train to Oberammergau (hrly, 1 change, 2hr trip) and then outside the station catch bus 9622 to Linderhof (25/30-min ride, 4€ one way 8€ round trip, bus departures are limited but you can typically count on Mon-Fri 10:25, 11:20, 13:10, 14:35, and Sat/Sun 10:35, 13:25, 14:35; with departures from Linderhof back to Oberammergau Mon-Fri 12:00, 13:50, 15:05, 16:40, 17:55/18:55, and Sat/Sun 11:05, 14:00, 15:05, 16:35, *17:55 [*departs April 2 thru Oct]—double check times in case of changes). Or, call ahead for a taxi pick-up (tel. 08822/94294), roughly 20€ one way from the train station to Linderhof. Note: If you are not traveling on a railpass, purchase the Bayern-Ticket to cover all your train and bus travel for the day. Oberammergau's train station is tiny, unattended, with only one track. In the adjoining plaza, picnickers will appreciate the choice of grocery stores (I prefer Tengelmann here).

Schloss Herrenchiemsee,
www.herren-chiemsee.de, tel. 08051/68870, closed Dec 24-25, 31 and Jan 1 otherwise daily, April thru Oct 23, 9:00-18:00, last tour around 17:00—Oct 24 thru March 9:40-16:15, last tour about 15:45—price (includes 30-min palace tour and entrance into museum) adult 8€, student 7€, youths 17yr and younger are free when accompanied by a parent. CC: payment possible with VC or MC but a minimum charge of 50€ is required. Note: To visit the interior of Schloss Herrenchiemsee you must go with a (30-min) guided tour. English tours typically depart twice per hour in summer and hourly in winter. Reservations are not necessary. Allow three hours for a visit—this includes the boat ride, palace tour, museum visit, and park promenade. Photography is not allowed inside the palace. Once on Herreninsel, you can either walk (20 min) to the palace or (mid-April thru Oct) ride the horse-drawn carriage (15 min, adult 3.50€, youth 5-14yr 1€). Fountains on the palace grounds spring to life for 15 min May-Sept at the top and bottom of the hour.
Located bang in the center of an island on Lake Chiemsee—Germany's second principal lake, locally known as the Bavarian sea, some 200 km (124 mi) east of Schloss Neuschwanstein and 75 km (46 mi) southeast of Munich—Schloss Herrenchiemsee is the largest of Ludwig's castles. As far as kings were concerned, Ludwig II regarded Louis XIV of France, the "Sun King," as the quintessential monarch. During two trips to Paris, 1867 and 1874, Ludwig studied Louis XIV's most ostentatious architectural achievement: the palace of Versailles.
Ludwig adored the serenity of Herreninsel, one of two islands on Lake Chiemsee. On this island, Ludwig chose to build his Bavarian Versailles, a creation he called Schloss Herrenchiemsee. The foundation stone was laid on May 21, 1878. Construction costs ballooned and Ludwig's tribute to Versailles became his most costly project to date, pushing the Bavarian economy to the brink of bankruptcy. Indifferent to the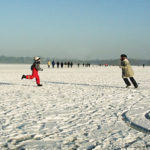 privilege of having the royal equivalent of a limitless credit card, Ludwig demanded more gold, more candelabras, more chandeliers, more marble, and more rooms. In the fall of 1885, Ludwig resided at Schloss Herrenchiemsee for the first time, but only for nine days. By early summer of the following year, while Bavaria's financial woes continued, Ludwig's cabinet declared him mentally unfit to rule bringing about his death shortly thereafter. Today, thousands of tourists annually cruise the idyllic Bavarian blue waters of Lake Chiemsee to see Ludwig's biggest and most expensive palace. (Pictured; one very cold day in winter. Herreninsel is the strip of land seen in the background and the white sheet before it is snow blanketing the frozen lake, thus people joyously walked to the palace, yours truly included.)
Boats rides, www.chiemsee-schifffahrt.de. Boats ferry tourists (hourly) over to the islands from Felden and Prien (off autobahn A8) as well as Gstadt (other side of lake, closest to Fraueninsel). When purchasing a boat ticket to Herreninsel (island home to Ludwig's palace), consider paying the nominal supplement (1.10€) to include Fraueninsel (that way you have it if you decide to go; if you buy it later it will cost 5.70€). Boats depart Prien for Herreninsel, daily, May 14 thru Sept 25 at 8:15, 9:00, 9:20, 9:40, 10:00, 10:30, 11:00, 11:45, 12:00, 12:30, 13:10, 13:50, 14:15, 14:45, 15:00, *15:45 (*last boat to comfortably make palace tour), 16:25 (could make last palace tour with this boat if you hurry), 17:00, 18:00 and 19:30, (less departures from Sept 26, hourly until last boat at 17:30/18:30), costing round trip adult 7.80€, youth 6-15yr 3.90€, family (2 + 2) 21.50€, and taking 15 min one way; from Herreninsel to Fraueninsel takes 10 min (consider paying the nominal supplement when buying your boat tickets to include this "Inseltour West" route). Study the boat schedule to neatly plan your connections. Holders of a valid Bayern-Ticket ask for a discount on boat fare.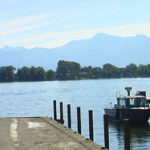 The islands: On Lake Chiemsee there are two islands, Herreninsel and Fraueninsel, both are worth visiting. Herreninsel, or Isle of Men, takes its name from the former Augustinian monastery that existed centuries ago on the island. Today, Ludwig's French-inspired palace sits smack-dab in the middle of the island surrounded by a 593-acre nature reserve. The manicured garden matrix framing the palace extends some 37 acres. Hikers, worthwhile is the über-scenic nature path circling the island (Rundwanderweg, 2hr, 7km). Fraueninsel, or Isle of Women, gets its name from the existing 8th-century convent of nuns, who are known for their popular brand of Chiemsee schnapps. In addition to the long-standing convent, belonging to the oldest of its kind in Germany, Fraueninsel is home to a picture-book fishing village with shops, beer gardens, and restaurants (specializing in smoked fish from the lake). I recommend a visit here if time is on your side—add two hours to your trip. (Pictured; Fraueninsel as seen from the boat dock at Gstadt. In sharp contrast to the wintry photo above, I captured this scene of Lake Chiemsee on a warm summer's day. The bulbous steeple rising above the right side of the island belongs to the convent. The mountains in the background are the Chiemgauer Alps, peaking at around 5,000 ft.) WWII Buffs: Buried on Fraueninsel (in the church cemetery, adjacent to convent) is General Alfred Jodl, former operations chief for Hitler's armed forces (Wehrmacht). Jodl was sentenced to death by hanging at the 1946 Nürnberg trials. Note: The former resort hotel featured in my novel Quest for the Bavarian Cross, Adventure in Europe (released in paperback January 2013) is nestled on the southern shore of Lake Chiemsee.
Railers, from Munich catch the train to Prien am Chiemsee (hourly, 1-hour trip, consider the Bayern-Ticket) then either hail a cab (waiting outside station, roughly 8€) to the boat dock, or walk (30 min), or descend through the pedestrian underpass off platform 1 direction Chiemseebahn to ride the historic steam train dating from 1887 (which takes about 8 min and departs May 14 thru Sept 25 daily at 10:15, 11:15, 12:15, 13:38, 14:15, *15:15 (*last train to comfortably connect with boat and make palace tour), 16:15, 17:15 and 18:15; ticket booth typically open 9:30-15:00; round trip adult 10.40€ for steam train + boat to Herreninsel, to both islands 11.40€). Note: Lockers (1€-2€/24hr) at Prien train station are positioned off platform 1a. Picnickers, you can find a Lidl grocery store (Mon-Sat 8:00-20:00) on the other side of the train tracks (descend through pedestrian underpass off platform 1 to Chiemseebahn).
Drivers, you have two uncomplicated options: (1) Exit the A8 autobahn at Prien am Chiemsee and head towards Prien. After about 2.5 km turn right on the traffic circle; your scenic country drive will conclude at the boat dock (Hafen) and pay parking area; (for boat departure times and prices see Boat Rides above). Although Prien harbor is quaint and affords a terrific opportunity for enthusiasts to marvel the fleet of historic ferryboats up close, I'm partial to option (2) not because — of its relaxing grassy beach (Strandbad) with volleyball courts; or the dock for boats heading to/fro the islands; or the newly built Chiemsee Infocenter (Mon-Fri 10:00-12:30 & 13:30-17:00, www.chiemsee-alpenland.de); or the appetizing lakeside restaurant-bar (www.badehaus-chiemsee.de); or Fritz Müller's bike rental shack (Fahrradverleih, run by Fritz's son Marco who speaks five languages, daily 9:00-19:00, from 9€/day, tel. 08051/961-4948) for visitors who desire to peddle around the lake — but because I lived here at Felden for five wonderful years (1998-2002)! Now you know my conviction and I hope you share it with me: Exit the A8 autobahn at Felden and follow signs Chiemsee Infocenter to the parking area (pay at automat, daily 9:00-18:00, about 1€/2hr or 3€/day). Boats depart the Felden dock for Herreninsel (Ludwig's castle) daily May 14 thru Sept 25: 10:30, 11:30, 13:00, 14:30 and 16:00, costing round trip adult 8.10€, youth 6-15yr 4€, family 22.20€ and taking 25 min one way; (consider paying the additional 1€ to include Fraueninsel — if cashier is unattended buy ticket on boat). Note: To see the property where I lived and worked, and the locale of my novel Quest for the Bavarian Cross, Adventure in Europe (released in paperback January 2013), follow the road to the Medical Park at the end. The complex has been sold and renovated into an orthopedic rehabilitation clinic but originally it was built as the Rasthaus am Chiemsee dating from 1938, commissioned by Adolf Hitler. During my time here it was known as the Lake Hotel, which accommodated U.S. military servicemen and women as a resort and recreational facility until 2003. I lived in the so-called annex (now closed) on the other side of the autobahn, through the underpass. Before hitting the road again, consider driving into Bernau and having a spell at the non-smoking Café Chaos (daily 6:00-24:00, tel. 08051/970-489, Chiemseestrasse 18) where we resort employees spent many hours getting to know the locals. The café's owner, Annette Steinberger, and staff make all the goodies fresh in-house, such as the bread and baguettes, sandwiches and pretzels, cakes and cookies and even the ice cream; the coffee is delivered from nearby Rosenheim. To get to Café Chaos from the Medical Park is easy, drive through the autobahn underpass then go right and continue straight through the traffic circle into Bernau toward the church (midway through town on the left is the café, usually with a giant ice cream cone out front, park where you can).
---
Note: Information on this page Harriman lifted from his guidebook.
(This guide will be updated and placed within our new Self-guided Munich, Ludwig's Castles & Hitler's Eagle's Nest guidebook that is in the works.)
(Last updated January 2019)