Population: 11,000. Elevation: 425 m (1,400 ft). Country-Area code: +49-(0)9861.
License plate: AN (short for Ansbach, the district to which Rothenburg belongs).
As far as German fortress towns are concerned, Rothenburg ob der Tauber ('above the Tauber River') is the proverbial jewel in the crown. With more than 2 million visitors annually, tourism is the lifeblood of the economy. Easily seen on foot, you'll cherish this medieval gem.
In the year 1142, (Hohenstaufen) King Konrad III built a castle (where the Castle Garden is today) upon the bluff overlooking the Tauber River. This in turn attracted settlers who sought the protection of a fortification. A neighborhood developed around the castle, which flourished over the next century. In 1274, (Habsburg) King Rudolf I declared the new community of Rothenburg a free imperial city, or a state within a state. By the year 1400, Rothenburg had more than 6,000 inhabitants, qualifying it as one of the largest cities in the kingdom.
During the Thirty Years' War (1618-48), Protestant Rothenburg was plundered several times by the Imperial Catholic army. From the economic downturn of incessant war and disease, Rothenburg spiraled into a state of destitution. The 18th century came and went with no reprieve. Rothenburg in the late 19th century, however, "preserved by poverty," was resurrected when it came under the spotlight for its old-world charm, becoming a haven for artists. One such artist, Adam Hörber, a playwright, was determined to amend the town's history to ensure a happy ending for all. Thus in 1881 he scripted a stage play, "der Meistertrunk," to indulge the mass appeal of medieval romanticism, the theme of the Market Square clock tower (which you will learn more about in the opening of our self-guided orientation tour of the Old Town).
During the next century, the god of war once again reared its ugly head upon Rothenburg when on March 31, 1945, sixteen Allied aircraft flew overhead and reduced 45% of the town to rubble. The townsfolk subsequently rebuilt what falling bombs had destroyed and today there couldn't be a more popular medieval hotspot in Germany than Rothenburg ob der Tauber, deserving of any itinerary to Europe. An enjoyable place to visit and explore, a requisite for young and old alike. After the myriad tour buses filled with daytrippers have departed, couples (you and your significant other) will appreciate the town's quaint emptiness in the evening; the quintessential storybook setting for a romantic hand-in-hand stroll along crooked lanes under a moonlit sky.
When considering your trip, note that Rothenburg is busiest on weekends May through October, and all of December on account of its beloved Christmas market.
---
Join our Germany & Austria Highlights tour and visit Rothenburg with Brett
---
Brett Harriman's Rothenburg guidebook is updated for 2016!
(This guide will be updated and placed within our new Self-guided Munich, Ludwig's Castles & Hitler's Eagle's Nest guidebook that is in the works.)
Download this colorful "Rothenburg & the Night Watchman" destination guide, bundled with our do-it-yourself tour of Rothenburg's Old Town entitled "Market Square to Hell," designed for you to travel like a local while saving time and money in Bavaria.
US$1.95, pdf file format, 16 mb, 13 pages, 2 maps

This purchase is for the immediate pdf file download; (download to your computer, iPad, or compatible mobile device)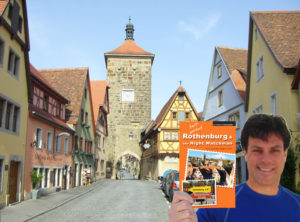 Night Watchman's Tour: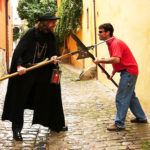 Though technically not a "sight," the Night Watchman clad in his convincing costume seemingly plucked from a time capsule is quite the attraction in Rothenburg, proven by the 50 to 100 of us who gather in the square each night to do the medieval two-step with the black-caped raconteur. His candle-lit beat will enlighten you on local histories, the lifestyles of nobles and peasants during the Middle Ages, while marching past mighty bulwarks, across a drawbridge, and beneath a stone mask designed to spew hot oil during times of siege. This one-hour romp—in English, pay Watchman at end of tour, adult 8€, student 12-18yr 4€, youth 11yr and younger free—departs daily March 18 thru December 2016 at 20:00 on Market Square (except no tour Dec. 24 & 31), and January 9 thru March 12 Saturdays only at 20:00. (Pictured, the Night Watchman and me dueling over a chocolate-covered snowball. I lost, of course.) Suggestion: Because the tour is informal and entirely outside, and the Night Watchman's shtick is comical, consider uncorking a bottle of wine with your traveling companion to accompany your stroll. Afterwards, go to Hell (wine tavern)!
---
Note: Information on this page Harriman lifted from his guidebook.
(Last updated January 2019)