Population: 154,000. Country-Area code: +43-(0)662.
Elevation: 450 m (1,480 ft). License plate: S.
In 45 A.D. Romans granted municipal status to "Iuvavum," a majestic outpost on the banks of a jade-green river that bisected the forested Mönchsberg (Monks' Ridge) and Kapuzinerberg (Capuchins' Ridge). It wasn't long before the region's valuable salt deposits were discovered. The Romans used salt as a food preservative and a commodity to barter goods. They even paid their legionnaires with the "white gold"; hence the term we use today, "salary" (from the Latin "salarium," referring to the salt allotment issued to Roman soldiers for money). Iuvavum blossomed and the population swelled to 5,000. By the year 488, the once vast and mighty Roman Empire had collapsed and Iuvavum fell to nomadic tribes.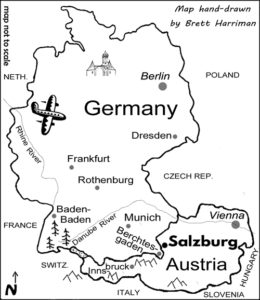 In 696 A.D., the Catholic Church dispatched Bishop Rupert from the German city of Worms to form a diocese on the ruins of Iuvavum. He founded St. Peter's monastery, bringing peace, prosperity and Christianity to the region. From these pious roots came the first archbishop, Virgil, and the community's new name: Salzburg (meaning Salt Castle, first mentioned in 755). Appropriately, the jade-green river flowing through Salzburg was also given a name: Salzach, or Salt River—not because of any salt content, but for the prosperous river trade that transported the "white gold" downstream to the Inn River, which flowed into the Danube and eventually the Black Sea and into the coffers of powerful Asian rulers. Bishop Rupert's city of salt flourished, and Salzburg over the next 1,000 years became a wealthy archbishopric, an independent church state ruled by the presiding Catholic prince-archbishop, not the Habsburg emperor seated in Vienna. Salzburg is Austria's only city that can claim its own history of autonomy from the imperial family.
In 1803, Napoleon's troops arrived and secularized the millennium-old diocese, forcing the last archbishop (Hieronymus von Colloredo) to flee to Vienna. It wasn't until 1816 that Salzburg actually became part of Austria.
More than a century later, Austria joined forces with Hitler's ill-fated Third Reich, consequently attracting swarms of Allied aircraft to the city of salt. From October 1944 till the end of World War II (May 1945), there were 16 bombing raids over Salzburg, totaling some 750 bombers (mainly B-24s), leaving 46% of the city's buildings either lightly or heavily damaged.
Today, Salzburg, the antique settlement on the Salt River and capital city of the Austrian province of the same name, has never looked better. What's more, since 1996, Salzburg's Altstadt has taken its place alongside the historic old towns of Bruges (Belgium), Dubrovnik (Croatia), and Florence (Italy) as an esteemed member of UNESCO's World Heritage List. For this reason, Salzburg's Old Town has largely been pedestrianized and its buses are mostly pollution-free, powered by electricity (via overhead electrical lines).
According to a reliable source, 1 in 4 locals (including those who live in provincial ski resorts) work in the service and tourism industry, and the city's single biggest private employer outside of this broad field is the Stiegl Brewing company with some 700 employees. But tourism remains the city's No. 1 money-spinner, attracting nearly 2 million visitors per year. Next to the federal capital of Vienna, Salzburg is Austria's second most important tourist destination. I, your humble author, have personally escorted some 6,000 guests through Salzburg, and not one was ever disappointed! Now it is your turn to marvel the majesty that is this magnificent municipality.
---
Join our Germany & Austria Highlights tour and visit Salzburg with Brett
---
Purchase this valuable resource that bundles together the do-it-yourself destination guides for Salzburg, the Lake District, and The Sound of Music (walking tour: University Platz to Mirabell; driving tour: Anif Water Castle to Moon Lake).
This guide is an absolute must-have for fans of the movie classic and anyone headed to this quaint corner of Austria. Moreover, author Brett Harriman has meticulously composed the information within this guide to educate you with local knowledge and history so you can make informed decisions that save time, as well as money, while leading to new adventures and acquaintances along the way.
(For sale at Amazon, click link to read reviews of the book and browse its interior via the Look Inside feature.)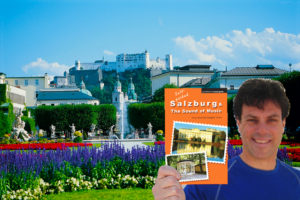 Salzburg video series:
The following three-part travelogue colorfully illustrates one of Austria's most picturesque and popular tourist destinations: Salzburg. Narrated by Brett Harriman, this video series calls out to those who are curious for knowledge, have an adventurous side, like to have fun, enjoy the outdoors, and are affected by irrepressible bouts of wanderlust.
So, what are you waiting for, pack your bags and let's go!
PART I:
PART II:
PART III:

(The following entries — Suggested Itinerary, Don't miss it!, B-T, Bus 840, Salzburg Card, as well as the historical intro above — Brett lifted from his guidebook:)
Suggested Itinerary:
Use Salzburg as your base to tour regional attractions; thus I suggest at least a three-day stay. Mood and weather permitting, divide your time like so:
Day 1: At Mozartplatz set off on my self-guided orientation tour of the city. Buy the Salzburg Card and visit sites of interest. Sound of Music fans, combine the aforesaid orientation tour with my SOM Walking Tour (p. 98). Conclude your day at the scenic rooftop lounge Seven Senses (p. 48) then dinner at the St. Peter's Stiftskeller (p. 56), Zum Fideln Affen (p. 57), or splurge on the Mozart Dinner Concert. Note: With little time or sore feet, the yellow Hop On Hop Off sightseer bus circuiting the city may be worthwhile to you, otherwise know that all the important sights are listed in this guide for you to do on your own and that public transportation is efficient and 100-percent free with your Salzburg Card. Rainy day ideas, see page 10.
Day 2: Continue touring sites of interest with your Salzburg Card or head east for a day in the Salzkammergut (p. 79), conceivably the world's most beautiful lake district, locale of more Sound of Music sights.
Day 3: Consider a trip south to the village of Werfen to experience the lofty ice caves and medieval fortress (p. 75) or travel 25 km southwest to the Bavarian village of *Berchtesgaden to tour the Eagle's Nest, Königssee lake, and/or salt mines. (*If traveling by bus consider purchasing the Bayern-Ticket listed below.) Back in Salzburg, consider an evening with the puppets at the Marionette Theater or perhaps take in a classical concert in the fortress or Mirabell Palace (refer to Entertainment section in guidebook).
Children: On vacation with the little ones and wondering what to do in town to pique their interest? (See the entry in our guidebook listing favorite things to do, see, and eat in Salzburg for children.)

Don't miss it!:
(Note: On my self-guided orientation tour of Salzburg I walk you past, or point out, all of these listings.) Climb the Glockenspiel; admire the Cathedral; tour the Fortress; stroll through St. Peter's Cemetery and into St. Peter's Church; stop by St. Peter's Stiftskeller; sample a chocolate Mozart ball; window-shop Getreidegasse; warm up to a shot at Sporer wines & spirits; breath in the exquisiteness of the Mirabell Gardens; take a spell at one of Austria's most scenic lounges, Seven Senses; beer drinkers, blow the froth off a couple at Müllner Bräu or the Stiegl Keller; and lastly, the Salzburg Card is a must-buy and your key to the city, thus it will open a whole other round of recommended sites and attractions, such as Mozart's Birthplace (p. 29), DomQuartier (p. 31), Monchberg Lift (p. 38), Mozart's Residence (p. 40), Schloss Hellbrunn (p. 41), Untersberg cable car (p. 45).

Free Wi-Fi (WLAN) hotspots in Salzurg, click here
Ten-day weather forecast for Salzburg, click here
Europe's oldest restaurant in Salzburg, click here
Webcams, click here
Rail Europe (overview) Austria and map, click here

Bayern-Ticket:
The Bayern-Ticket is a good buy for individuals (25€) and small groups up to *five persons traveling for the day after 9 a.m. in 2nd-class seating on non-speed trains within the German state of Bavaria and specifically on the "Meridian" train between Munich and Salzburg main train station. (*The Bayern-Ticket costs an initial 25€ for the first person then add 7€ per person to a maximum of five persons, thus a two-person Bayern-Ticket costs 32€, three-person 39€, four-person 46€, five-person 53€.) Although the latter ticket is specifically aimed at Bavaria, it's ideal from Salzburg to Munich, where many of you will be going. For instance, you can visit the Bavarian capital for the day, and travel on the city's trams and buses and subway as needed, then return to Salzburg main train station (on the "Meridian" train) for the aforesaid  price of 25€ one person or 32€-53€ for small groups up to five persons. For travel to Berchtesgaden, however, the Bayern-Ticket is not recommended, since the day ticket sold by the driver of bus 840 is a much better deal (see entry for Bus 840 below). The Bayern-Ticket is also ideal for parents (and grandparents) who can use it to travel with an unlimited number of their own children (or grandchildren) aged 14 and under.
Note: The Bayern-Ticket is valid Mon-Fri after 9:00 until 3:00 (the following morning) and the whole day Sat-Sun in 2nd-class seating on the "Meridian" train between Munich and Salzburg main train station and on all public transportation within Bavaria (but not Salzburg) for the economical price of 25€ one person or 32€-53€ for small groups up to five persons. But for this price the ticket must be purchased either online (www.bahn.de, print invoice and bring it on train with your credit card) or at a German rail automat in Salzburg main train station (automats accept all major credit cards and are multilingual). To emphasize; if the ticket is bought over the counter you will pay a 2€ surcharge (i.e. 27€ for individuals and 35€-55€ for small groups), and much, much more if purchased on the train (thus buy ticket in advance before boarding).

Bus 840 to Berchtesgaden,
(5.90€ one way, 50-min trip) departs typically Mon-Fri 8:15, 9:15, 10:15, (*summer also 10:45), 11:15, (*11:45), 13:05, 14:15, 15:15, (*15:45), 16:15, (*16:45), 17:15, 18:15, and Sat/Sun 9:15, 10:15, 11:15, (*12:15), 14:15, 15:15, (*16:15), 17:15 from opposite Salzburg's main train station (across street from "Forum 1" mall, or from **Mirabellplatz, Rathaus, and Mozartsteg a few minutes later. **Note that at Mirabellplatz there are three different pick-up points—you need to wait at the north end, i.e. the bus stop closest to main train station, but check schedule in advance for changes). If you're planning on returning to Salzburg, purchase the day ticket (Tageskarte adult 10.40€, youth 6-14yr 6.50€, family [2+2] 24.50€) from the driver, which will cover all your bus transportation for the day, including to/fro Salzburg and Obersalzberg (bus departure area for Eagle's Nest), as well as to the salt mines and Königssee lake (see my Self-guided Munich, Ludwig's Castles & Hitler's Eagle's Nest guide out later this year). But if you are a small group of 4 or 5 persons, buy the Bayern-Ticket (explained on previous page) directly from the driver of bus 840 to significantly increase savings. Note that during the week (Mon-Fri) the Bayern-Ticket is officially valid after 9:00. The ticket is also valid Sat/Sun but there is neither an 8:15 bus nor an early time restriction on weekends. Note: Bus 840 terminates at Berchtesgaden's train station, where buses depart roughly every 30 min to Obersalzberg and elsewhere around town.

Salzburg Card 2019:
I highly recommend you invest in the savings afforded by the Salzburg Card. You will not only gain unlimited use of public transportation within the metro area but also free one-time admission into most attractions (for example all sights in my do-it-yourself city orientation tour are free with the Salzburg Card), including discounts on select services and entertainment. The Salzburg Card comes in three validity types: 24, 48, and 72 hours (each available at the TI, airport info counter, and possibly your accommodations). The cost of the card varies on the time of year (for example, the price increases May-Oct.): 24-hour card adult 26€, youth 6-15yr 13€ (May-Oct. 29€/14.50€); 48-hour card adult 34€, youth 6-15yr 17€ (May-Oct. 38€/19€); 72-hour card adult 39€, youth 6-15yr 19.50€ (May-Oct. 44€/22€). TIs accept credit cards: VC, MC, DC. Note: The Salzburg Card is not valid until you sign and date it, which is particularly important if you plan to use public transportation first, but with respect to visiting attractions the card is not actually activated until its first barcode scan, when the countdown begins.

Vignette; Drivers: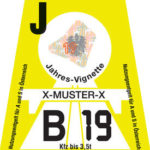 The maximum speed limit on the Austrian autobahn is 130 kilometers per hour (kph), but to drive on this efficient motorway you are required to have what's called a "Vignette," or toll sticker affixed to the windshield of your rental vehicle. The Vignette color this year (2019) is lemon yellow. If the Vignette is not this color, it's not valid! But even if it is the correct color, it still may not be valid. This is because the Vignette is sold in three (time-constrained) categories: 10 days 9.20€, two months 26.80€, and one year 89.20€. You can obtain this little decal at most any gas station approaching the border (and some gas stations within Austria). Note: Affix the Vignette to the inside corner of your windshield or behind the rear-view mirror. (Your rental car may already have a toll sticker from the previous renter; you're in luck if it's still valid.) If you happen to get pulled over without a valid Vignette, the fine is upwards of 240€, on the spot! Lastly, the law requires that you have an international driving permit to drive in Austria (which you can typically pick up for around $20 from your local auto club, e.g. AAA). In Germany, however, an international driving permit is not required.
---
(This page was last updated February 2019)