In 1963, a Hollywood scouting team began searching locations in the Salzburg region. Back in California, director Robert Wise was role casting. Mia Farrow auditioned for the role of Maria, Kurt Russell and Richard Dreyfuss tried out for the younger roles. Wise considered Sean Connery, Richard Burton and even Doris Day for leading roles before ultimately casting a group of relative unknowns.
By spring 1964, after three months of exhausting rehearsals, the 250-person cast and crew arrived in Austria with a shooting schedule of six weeks. Everything was on cue, a seemingly watertight program, except for the weather—six weeks turned into a slog of 11! Upon completion, everyone returned stateside to wrap up the interior scenes on a Twentieth Century-Fox sound stage in Los Angeles. By that time, Friedrich (Nicholas Hammond) had grown 6 inches in 6 months thus Lisl had to stand on a box to appear taller. Marta (Debbie Turner) lost her two front teeth but the props department came to the rescue with substitutes.
Finally, to the elation of all involved, "The Sound of Music" was released in March 1965 and theaters everywhere were sold out. Julie Andrews and Christopher Plummer played the starring roles in the Rodgers and Hammerstein production, which in April 1966 won five Oscars—at the 38th Academy Awards, the first to be televised in color—for Best Picture • Best Director (Robert Wise) • Best Sound • Best Film Editing • Best Music (Scoring of Music).
---
Join our Germany & Austria Highlights tour and visit the Sound of Music sights with Brett
---
"The Sound of Music" (SOM), based on a true story, is arguably the most popular musical film of all time. A guidebook to Salzburg simply would not be complete without a tribute to its creation. With more than five years of experience as a SOM tour guide living in Austria, Brett Harriman has written step-by-step instructions so you can do the tour yourself, easily and efficiently, leading straight to the locations made famous by this timeless classic. You will save a tidy sum in comparison to paying for a commercial tour at around US$50 per person, essentially recouping the price of our guidebook several times over.
This guide is an absolute must-have for fans of the movie classic and anyone headed to this quaint corner of Austria. Why? Because the comprehensive information contained within this resource Brett has composed to guide you like a local while saving you a heap of time and cash. Really! Case in point: In Salzburg, the price for a 4-hour Sound of Music guided tour is roughly US$50 per person. Actually, the tour is only about 3.5 hours when subtracting the time waiting for people to get on and off the bus at the few stops visited. Moreover, you are not shown many of the must-see sites and simply driven past many more. No kidding! And we pity those travelers who are unfortunate enough to be stuck on the bus with a lifeless tour guide, or with seat neighbors who incessantly talk throughout (like those at the movie theater), or even worse with a crying baby on board. Yikes!
Bottom line, with Brett's guidebook you will not only see most everything featured in the 1965 film classic, you can take your time while sightseeing with the whole family (a group of friends or individually) for one very low price!

Purchase this valuable resource that bundles together the do-it-yourself destination guides for Salzburg, the Lake District, and The Sound of Music (walking tour: University Platz to Mirabell; driving tour: Anif Water Castle to Moon Lake).
(For sale at Amazon, click link to read reviews of the book and browse its interior via the Look Inside feature.)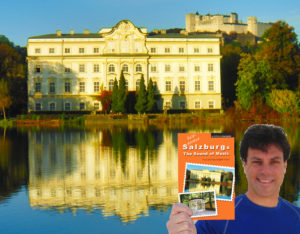 Sound of Music video series:
Narrated and produced by Brett Harriman, this captivating two-part travelogue explores Sound of Music fact and fiction and the charmingly scenic sites that set the backdrop for arguably the most popular musical film of all time.
PART I:
PART II:

With Brett's tour you will learn many things, among them the real history of the von Trapps: where Georg and Maria really got married; how the family really escaped from Nazi-occupied Austria; where they landed, and re-landed; how long the von Trapps were detained at Ellis Island, New York; and where they eventually settled. Learn about Maria penning their fascinating story of survival into book form, how much she sold the rights for, and what happened afterwards.
But that's just the historical side of things; this self-guided tour will lead you to the charmingly scenic and captivating sites the Hollywood film scouts discovered in 1963 that set the backdrop for director Robert Wise to shoot, arguably, the most popular musical film of all time.
TOUR BREAKDOWN:
The Sound of Music part of Brett's bundled Salzburg guide is 19 pages, has two maps, and is split into three chief sections: (intro) The Basics, SOM 101; Walking Tour; and Driving Tour.
WALKING TOUR:
Allow at least 90 minutes to complete the Walking Tour. This section leads you past, among many other sites, the university marketplace and Festival Halls, through the cemetery, up to the abbey, across town to experience the aromatic Mirabell Gardens and waltz up/down the Do-Re-Mi steps. For the latter two sites, slip on the 'play clothes' you worked so hard to tailor.
DRIVING TOUR:
(Note that people without a car are not completely left out in the cold when it comes to the Driving Tour; it is possible to do more than half of it — everything except the lake district — on your own by bicycle. Your route, though, will be different to that of Drivers, which is described in the tour.) Although you could spend most of the day on the Driving Tour, we recommend you allow at least two hours to complete it in the speediest of trips. There are five sites on the Driving Tour; four are in Salzburg and the fifth is in the Salzkammergut, or lake district. The route is fairly simple to navigate and the countryside is delightful to behold, especially in the lake district. Regarding the latter destination, if the weather's nice, bring your bathing suit.
SUGGESTION:
See the movie before leaving home or setting off on the tour. (Note: In Salzburg we point you to where you can view the movie for free; shown daily.) And watch it again post-tour, you'll see it with fresh eyes after you learn and experience first-hand the gripping history and sensational sights that have helped make this movie an enduring classic. These are the treasured memories of a memorable trip, and they are yours to keep, forever!

---
(This page was last updated February 2019)