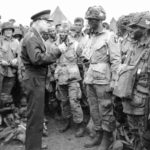 "Soldiers, Sailors, and Airmen of the Allied Expeditionary Force. You are about to embark upon the Great Crusade, toward which we have striven these many months. The eyes of the world are upon you."
General Dwight D. Eisenhower (June 6, 1944, from his Order of the Day)
---
This year marks the 79th anniversary of the D-Day landings
On this epic tour Brett will guide you through Operation Overlord, the largest amphibious offensive in history, from storming beaches to airborne assaults, a violent clash of armies in Normandy, France, known to all as "D-Day." A history lesson you will never forget!
On this powerful land-based package we visit 2 former drop zones, 3 military cemeteries, 5 landing sectors (Utah, Omaha, Gold, Juno, Sword), umpteen museums, memorials, monuments and battle sites.
This is more than a tour, it is a pilgrimage. Brett believes all travelers should one day come to Normandy, France and visit the battlefields where every-day heroes paid the ultimate price. It is a stark reminder that freedom is not free. A monumental debt is owed here; though difficult to repay, we can honor these selfless soldiers and validate their eternal sacrifice with our visit.
Piggybacking: This package has been designed so you can either sign up for it exclusively or piggyback it with one of Brett's other tour programs to extend the cultural experience and enlightenment. But, be quick, the tour will sell out as there are only a handful of seats available. (Piggyback this package with another and deduct 20% from the advance payment of that tour, deduct 30% from the advance payment of a third package and 40% for a fourth package.)
Scotland Highlights & Whisky Tasting tour August 18-25, 2023
Belgium Beer & Battlefields tour September 2-8, 2023
Germany & Austria Highlights tour September 9-15, 2023
Oktoberfest in Munich tour packages September 15 — October 2, 2023
Money, details are listed below the package itinerary.
---
Omaha Beach to Pegasus Bridge via Pointe du Hoc & Normandy American Cemetery
August 29 — September 1, 2023

— 3 nights, 4 days
4 seats remain
Maximum capacity for this one-time tour is 8 persons —
Reserve your spot now before this package is sold out!
Recommended viewing for this tour: "The Longest Day" (1962; classic with an all-star cast: John Wayne, Richard Todd, Robert Mitchum, Richard Burton, Sean Connery, Henry Fonda, Red Buttons, Peter Lawford, Eddie Albert, Rod Steiger, George Segal, Robert Wagner, Paul Anka) — "Saving Private Ryan" (1998; must-see epic war film directed by Steven Spielberg starring Tom Hanks, Tom Sizemore, Edward Burns, Matt Damon) — "Band of Brothers" (2001; this 10-part miniseries created by Steven Spielberg and Tom Hanks is a memorable must-watch).
–
Package itinerary:
In case of bad weather we will revise the following itinerary as much as possible to visit indoor attractions on rainy days and save the outdoor sites for better weather.
Normandy coast (3 nights, 4 days):
DAY 1 (Tuesday), August 29

— Orientation, Omaha Beach & Normandy American Cemetery


Brett Harriman, your guide, will meet you in Bayeux, Normandy and escort you to our hotel for check-in and group orientation. We hit the ground running and start visiting the major sites, beginning with *Omaha Beach and Normandy American Cemetery (see cemetery No. 10) followed by the gun emplacements at **Pointe du Hoc.

*Early Tuesday morning, June 6, 1944, German soldiers peered out from their coastal defenses at sunrise to a truly awesome sight: an armada of warships – cruisers, destroyers, escorts, troop transports, gun boats, minesweepers, assault and landing craft – some 7,000 in all, delivering 150,000 men, that filled the horizon across the English Channel as far as the eye could see. A literal curtain of steel. Sea sick and frightened, the Allied men were brought ashore by specially designed landing craft known as Higgins boats, each transporting 36 soldiers. The landing craft lowered their iron ramps onto Omaha Beach at 6:30 a.m. and the first wave of troops rushed into a killing zone. GIs had to dash across some 200 yards of exposed beach under merciless enemy fire while sidestepping mines, steel obstacles, tank traps, barbed wire, and ultimately concrete bunkers and entrenched positions containing scores of German soldiers armed with machine guns, grenades, and anti-tank (PAK) cannons on the very bluff where Normandy American Cemetery now stands. Within the first two hours of combat, 2,400 Americans were dead — thus began the longest day on bloody Omaha Beach!

**Pointe du Hoc is the coastal high ground betwixt Utah and Omaha beaches, site of extreme heroism demonstrated by Lt. Col. James Rudder (U.S. Army) and members of his 2nd Ranger Battalion, a.k.a. Rudder's Rangers, who scaled sheer cliffs under enemy fire to capture and neutralize Nazi gun batteries. From Rudder's initial force of 225 Rangers, only 90 survived the two-day battle!
DAY 2  (Wednesday), August 30

— Pegasus Bridge to Gold Beach to sampling local liqueurs at a historic farm


After breakfast we bounce to the eastern flank of the Allied invasion zone and visit the Pegasus Bridge and Memorial, scene of the first battle of D-Day, named after the British gliderborne units that secured it. From Pegasus we wend our way west along the coast passing Sword and Juno beaches to Gold Beach, the British sector, home of the "Mulberry" harbor, or artificial port, in time for a unique viewing experience at the 360° Circular Cinema having 9 HD screens featuring the 19-minute film "Normandy's 100 Days of Battle." Our encompassing journey advances farther west along the scenic Norman coastline to more captivating sites and sounds pertaining to Operation Overlord. We crown our memorable day with a tour of a historic farm and partake in sampling local intoxicants such as hard cider and Calvados, an apple brandy native to this glorious region of France.
DAY 3 (Thursday), September 31

— Utah Beach, Brécourt Manor & Ste. Mère-Église


Another day of epic highlights on our extensive tour itinerary begins after breakfast when we motor to the western flank of the Allied invasion zone and visit Utah Beach, followed by the quaint town of Ste. Mère-Église and its famed church with hanging paratrooper (Private John Steele played by Red Buttons in the movie classic "The Longest Day"). But that's not all, our D-Day odyssey of wonderment and historic discovery is just beginning, we will explore 101st & 82nd Airborne battle sites such as Brécourt Manor (as seen in the television miniseries "Band of Bothers," episode 2 "Day of Days"), La Fière Bridge, and Dead Man's Corner. From the battlefields we move on to hallowed burial grounds to pay our respects to the young warriors who tragically lost their lives in the struggle and forever rest on foreign soil. First up is La Cambe Cemetery, Germany's largest in the region, burial place to more than 21,000 dead. Our finale to Day 3 will see us at Bayeux War Cemetery, the largest Commonwealth cemetery of the Second World War in France, where 4,144 of its brave sons rest peacefully.
DAY 4 (Friday), September 1, 2023

— Au Revoir


This a.m. we visit a few last sites we may have missed due to inclement weather or otherwise. Around noon, regrettably, it's time to say Au revoir to the friends we've made. Our tour is over, unless you've chosen to continue with Brett on the next tour program to extend the cultural experience and enlightenment. (Brett will shuttle guests who require a transfer along the French coast to Bruges, Belgium, location of our next tour start for the Belgium Beer & Battlefields package.)
–
Feel free to contact Brett with any questions you may have.
ADVANCE PAYMENT:
Click the ADD TO CART button to pay your advance payment via PayPal or Venmo (for other forms of payment, contact Brett).
In case you do not see the ADD TO CART PayPal button, try on another device, e.g. non-Apple product.
–
Money, package details:
The land-only price for this exclusive tour package is 695 — 495 euro (payable in France) + US$200 (advance payment) per person (double occupancy) — which includes your accommodations (3-star non-smoking hotel with free Wi-Fi), breakfast, all transportation and attractions we do together as a group, and Brett Harriman as your personal guide.

You will be hard-pressed to find a better D-Day deal, anywhere!

The price for this 4-day (3-night) package

is approximately US$174 per person per day (495 euro x $US1 = $495 + $200 advance = $695 / 4 = $174), which is hard to beat when considering the exclusive hand-held nature of the package, transportation across the Allied invasion zones, and the umpteen sites and museums visited.
The price does not cover lunch, dinner, and of course personal expenses, such as whatever you do on your free time.
Transportation for this tour will be a 9-seater mini van piloted by Brett Harriman.
Walking, footwear, & picnic lunches: Expect to do a lot of walking. Ideal footwear would be waterproof boots (but these are difficult to travel with so at least bring), comfortable shoes. Anticipate possible wet and muddy areas. We will explore former battlefields, tread sandy beaches, stroll the cobbled lanes of historic towns, and pay our respects to the dead at sprawling cemeteries. Additionally, bring a windbreaker or jacket. On the lunch front, we'll plan picnics when possible that will not only save us money but also time for more sightseeing.
Packing & souvenirs: As always, pack light, but do allow a little extra room for souvenirs and whatnot you may pick up along the way.
Single supplement: The package price is based on double occupancy — a supplement of US$200 will be added to the price for single travelers but who are welcome to room together to save the supplement; (notify Brett if this is you and he will do his best to make compatible room assignments).
Payment: To reserve your place an advance payment of US$200 per person is required and the remaining 495 euro is due in France upon meeting your group leader. After the advance payment is made Brett will contact you to confirm your reservation. (Note: Since seating is limited to 7 guests, reserve your place soon before the package is sold out!)
Cancellation: The advance payment is fully refundable 75 days prior to tour departure. Within 75 days, however, your advance payment will be forfeited (sorry!) unless your spot can be filled or you'd like to transfer the reservation to another Harriman tour package this year or next.
Piggyback Brett's tour with another and deduct 20% from the advance payment of that tour, deduct 30% from the advance payment of a third package and 40% for a fourth package.