"Quest for the Bavarian Cross, A Woman's Adventure in Europe"
---
Support Brett. Buy "Quest." Take it on the road. Follow in Sydney's footsteps.
---
Sydney Endicott, an American college student, needs a change in her life. But what? Then, bang, it happens! Sydney is lured to Europe by a job ad in the newspaper and a mystery involving a jeweled crucifix that once belonged to a colorful king.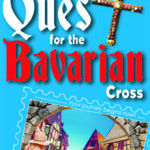 Sydney, however, gets more than she bargained for. History suggests the crucifix is cursed, but the spirit of the adventure and her sleuthing for clues along the way only makes this college student more determined to find it.
What young woman could ask for more than exploring medieval castles, sipping wine from the Rhine, indulging in authentic strudel and Black Forest cherry cake, soaking in fabric-free baths founded by Romans, touring sites made famous in the movie classic "The Sound of Music," and strolling cobbled lanes once trod by Teutonic knights?
The do-it-yourself journeys of Sydney Endicott are sure to get you off the couch and following in her footsteps.
"Quest for the Bavarian Cross, A Woman's Adventure in Europe" is an easy yet compelling read that not only inspires wanderlust, but also will lead many readers to a life-changing travel experience. You won't find another book like it.
---
Chapters:
Chapter 1: I Need a Break (Diplomaville, USA)
Chapter 2: A New Beginning (Chiemsee, Germany)
Chapter 3: Jesse's Tour (Salzburg & The Sound of Music)
Chapter 4: My First Youth Hostel (Salzburg, Austria)
Chapter 5: Look, But Don't Touch (Baden-Baden, Germany)
Chapter 6: An Alpine Village (Berchtesgaden, Germany)
Chapter 7: The Letter (Munich, Germany)
Chapter 8: Bulwarks and Mysteries (Rothenburg, Germany)
---
Join Brett on his adventure novel tour "Quest for the Bavarian Cross" that takes in wowing highlights from both Germany and Austria
---
Brett Harriman's travel novel "Quest for the Bavarian Cross, A Woman's Adventure in Europe" is now for sale and available for your consumption
(For sale at Amazon, click above graphic to read reviews of the book and browse its interior via the Look Inside feature.)