Join Brett on his adventure novel tour "Quest for the Bavarian Cross" that takes in wowing highlights from both Germany and Austria
On this unrivaled land-based package we visit 2 countries, 2 UNESCO World Heritage sites, 3 capital cities, 4 glistening lakes, 12 locations featured in Hollywood movie classics, 2 famed fairy-tale castles, 1 soaring Eagle's Nest, and many of the stunning sights Sydney discovered during her "Quest for the Bavarian Cross."
Piggybacking: This package has been designed so you can either sign up for it exclusively or piggyback it with one of Brett's other tour programs to extend the cultural experience and enlightenment. But, be quick, the tour will sell out as there are only a handful of seats available. (Piggyback this package with another and deduct 20% from the advance payment of that tour, deduct 30% from the advance payment of a third package and 40% for a fourth package.)
Scotland Highlights & Whisky Tasting tour August 18-25, 2023
D-Day Beaches & Beyond tour August 29 — September 1, 2023
Belgium Beer & Battlefields tour September 2-8, 2023
Oktoberfest in Munich tour packages September 15 — October 2, 2023
Money, details are listed below the package itinerary.
---
Frankfurt to Munich via Ludwig's Castles & The Sound of Music
September 9-15, 2023

— 6 nights, 7 days
1-2 seats remaining
–
Max capacity for this one-time tour is 7 persons —
Reserve your spot now before this package is sold out!
Recommended viewing for this tour: "The Sound of Music" (must-see) — "Band of Brothers" (the entire 10-part series is captivating but specifically episode 10, "Points," portrays the boys of Easy Company in Berchtesgaden and Austria) — "The Great Escape" (filmed in and around Füssen, including a wowing shot of Neuschwanstein castle during the airplane scene with James Garner and Donald Pleasence near the end of the movie).
–
Package itinerary:
FRANKFURT to ROTHENBURG ob der Tauber (1 night):
DAY 1 (Saturday), September 9

— Emperors, frankfurters, "Bulwarks and Mysteries"

Brett Harriman, your guide, will meet you in Frankfurt for group orientation, followed by a walking tour from the city's historical core to its skyscraping financial district. By the time you turn in for the evening, you will have a better understanding of why Frankfurt is ranked the 7th most livable city in the world (this is the latest survey since Covid).

As far as German fortress towns go, Rothenburg is the proverbial jewel in the crown. If one could realistically walk through a postcard, Rothenburg is the place. Here you'll discover the Middle Ages magically preserved in the midst of a modern world. While Brett can't promise you villagers queuing to pay their tithes, costumed acrobats performing gymnastic feats for titled heads, or blacksmiths hammering iron by charcoal-fired forges, he can assure you will cherish this medieval gem shaped like a pork chop. Overnight: Rothenburg.
FÜSSEN & Schloss Neuschwanstein (1 night):
DAY 2 (Sunday), September 10

— Romantic Road, King Ludwig's fairy-tale castle & UNESCO wonderment

Today is another busy day filled with adventure and historic discovery. After breakfast, we motor south along Germany's most popular themed tourist route, the Romantic Road, from the medieval walled towns of middle Bavaria, where time appears to have stood still for centuries, to the green foothills of the snow-peaked Alps bordering Austria, where hikers mingle with edelweiss and the melodic voices of yodelers shepherd cows to the dairy. En route we'll pass Augsburg, one of Germany's oldest cities, named after its founding father, Roman Emperor Augustus, in 15 B.C. We'll meander past historic Landsberg am Lech and its high-security prison, which made national headlines in the early 20th century when Adolf Hitler was imprisoned here after his botched attempt to overthrow the Bavarian government in the so-called Beer Hall Putsch. (From Nov. 1923 to Dec. '24, Hitler lived in cell No. 7, where he spelled out his future plans in his book "Mein Kampf," or My Struggle, which no politician in a democratic country bothered to read, until it was too late.) Farther south we visit the Wieskirche, or Church in the Meadow, arguably Germany's most dazzling example of Rococo-style, earning a place (since 1983) alongside the Taj Mahal and the Acropolis as an esteemed member of UNESCO's World Heritage List. Our final destination lands us in the border town of Füssen, the southern-most point on the Romantic Road, where we check in to our digs then tour Schloss Neuschwanstein: the epitome of castles everywhere, a Ludwig fantasy made real that resurrected the storybook style typically associated with chivalry and noble knights, now one of Germany's most visited tourist attractions and our regal end to Day 2.
SALZBURG (2 nights):
DAY 3 (Monday), September 11

— Schloss Linderhof & the City of Mozart

From Füssen we swing into Austria along a stunning alpine route—one that King Ludwig II often took in his carriage—through an evergreen forest, past an enchanting lake (Plansee) reflecting the most brilliant emerald-green waters before crossing back into Bavaria and on to petite Schloss Linderhof. After our castle tour (optional), we continue our scenic spin through the charming Bavarian countryside en route to the City of Mozart and our heavenly home for the next two nights.
DAY 4 (Tuesday), September 12

— Sound of Music, majestic lakes & scrumptious strudel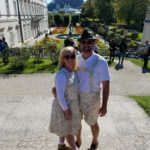 Time to throw on your specially tailored 'play clothes' because today we tour Salzburg and visit the sights made famous by the movie classic, "The Sound of Music," including an excursion into Austria's majestic lake district (locally Salzkammergut) to dip our toes in the region's warmest lake, Mondsee. Translating to Moon Lake, Mondsee has to be romantic! It's no wonder Hollywood married Georg and Maria von Trapp right here in the town's Baroque church of St. Michael's. What's more, Mondsee is a pleasing place to indulge in a slice of scrumptious strudel, our finale to Day 4.
MUNICH (2 nights):
DAY 5 (Wednesday), September 13

— Berchtesgaden, Hitler's Eagle's Nest & the Bavarian capital


For history buffs and nature lovers, today will be another epic highlight on our extensive tour itinerary. After breakfast, we fire up the engine, bid Austria adieu, and roll across the German border to Berchtesgaden, where authentic Bavaria will be on full display in this picturesque village nestling at the toes of the Alps. Imagine pine forests, quaint farmhouses, onion-domed churches, and mountain rivulets cutting through lush meadows home to lethargic cows playing tunes with the bells hanging from their necks. Picture men clad in lederhosen, women wearing busty dirndls, girls sporting pigtails, and hikers clutching ornamented sticks seemingly within arm's reach of jagged peaks belonging to majestic mountains. It's authentic Bavaria; it's Berchtesgadenerland, the real deal, and Brett can't wait to introduce you to the sights. Among the many attractions on the list, we will visit Germany's only national park in the Alps; we will descend deep within a World War II bunker beneath Hitler's former home (optional); and to conclude our alpine odyssey we'll hop aboard a bus that will climb a steep four-mile stretch of serpentine road to an elevation of 5,500 feet, more than a mile in the sky, then we step through a 400-foot tunnel blasted into the mountain face, where Hitler's former elevator will lift us another 400 feet within 45 seconds directly into the heart of the Eagle's Nest soaring high above Berchtesgaden boasting sensational vistas of Bavaria and beyond.
— Lederhosen, liter beers & monks

From Berchtesgadenerland, we head north to Germany's third largest city and our delightful digs for the next two nights. Often referred to as "the village of 1 million," Munich is the proud capital of the German state of Bavaria. But perhaps more important, Munich is the beer capital of the world, thanks to the city's namesake monks. No wonder Munich was voted "the city most Germans would prefer to live in." And that's not all, the popular consensus is not confined to Germany, according to the Mercer 2019 Quality of Living survey (the latest since Covid), Munich is ranked the 3rd most livable city in the world! Thus, there is no time to waste, Brett will guide you on an orientation tour of Munich Old Town followed by an immersion into Bavarian culture and feasting, a quality best ascribed to the monks. Amen!
DAY 6 (Thursday), September 14

— Palaces & playtime

Today is your day. We suggest palaces and playtime. To get you started, Brett will point you to noble and notable sites such as Munich's royal residence; Dachau concentration camp memorial; BMW museum and factory tour; and the world's most famous beer hall, the Hofbräuhaus, a historical monument to over 400 years of brewing tradition, your chance to learn traditional Bavarian drinking songs such as "Oans, zwoa, G'suffa!" (One, two, chug-a-lug!), "Sweet Home Alabama," and to perform the chicken dance in front of a live audience. Cheers!
DAY 7 (Friday), September 15, 2023

— Auf Wiederseh'n

Regrettably, it's time to say Auf Wiederseh'n to the friends we've made. Our tour is over, unless you've chosen to stay on and experience the best of Oktoberfest with Brett in Munich!
–
Feel free to contact Brett with any questions you may have.
ADVANCE PAYMENT:
Click the ADD TO CART button to pay your advance payment via PayPal or Venmo (for other forms of payment, contact Brett).
In case you do not see the ADD TO CART PayPal button, try on another device, e.g. non-Apple product.
–
Money, package details:
The land-only price for this exclusive tour package is 1,495 — 995 euro (payable in Germany) + US$500 (advance payment) per person (double occupancy) — which includes your accommodations (3/4-star hotels), breakfast, all transportation and attractions we do together as a group, and Brett Harriman as your personal guide.

You will be hard-pressed to find a better Deutschland deal, anywhere!

The price for this 7-day (6-night) package

is approximately US$213 per person per day (995 euro x $US1 = $995 + $500 advance = $1,495 / 7 = $213), which is hard to beat when considering the exclusive hand-held nature of the package, transportation across Germany, and the umpteen sites visited.
The price does not cover lunch, dinner, and of course personal expenses, such as whatever you do on your free time.
Transportation for this tour will be a 9-seater mini van piloted by Brett Harriman.
Walking & picnic lunches: Expect to do a lot of walking. We will traverse the cobbled lanes of historic towns, climb umpteen steps in castles and palaces, and explore WWII sites. On the lunch front, we'll plan picnics when possible that will not only save us money but also time for more sightseeing.
Packing & souvenirs: As always, pack light, but do allow a little extra room for souvenirs and whatnot you may pick up along the way.
Single supplement: The package price is based on double occupancy — a supplement of US$400 will be added to the price for single travelers but who are welcome to room together to save the supplement; (notify Brett if this is you and he will do his best to make compatible room assignments).
Payment: To reserve your place an advance payment of US$500 per person is required and the remaining 995 euro is due in Germany upon meeting your group leader. After the advance payment is made Brett will contact you to confirm your reservation. (Note: Since seating is limited to 7 guests, reserve your place soon before the package is sold out!)
Cancellation: The advance payment is fully refundable 75 days prior to tour departure. Within 75 days, however, your advance payment will be forfeited (sorry!) unless your spot can be filled or you'd like to transfer the reservation to another Harriman tour package this year or next.
Piggyback Brett's tour with another and deduct 20% from the advance payment of that tour, deduct 30% from the advance payment of a third package and 40% for a fourth package.