American Military Cemeteries in Europe

EDITOR'S NOTE: It is appropriate, a responsibility, and an honor to include a destination guide on the hallowed ground that is forever America on foreign soil. I (Brett Harriman, resident of the great state of Nevada) am not, in any way, discounting those fellow allied-Commonwealth members who have also paid the ultimate price for freedom, nearly 1.7 million brave in the two world wars. No matter your nationality, it is your duty to pay homage, at least once, to those who gave their life so that future generations may live in peace.


THE fallen servicemen and women listed in this guide came from all walks of life, from every state in the union. They died serving their country, in the prime of their lives, for this they never got to cuddle a loved one again or see their child grow up—things we take for granted every day. I think it was said best when a teary-eyed British veteran of D-Day related the loss of his comrades:
"They gave away all of their tomorrows for your today."
Each death—represented by a white-marble cross or a Star of David that as a whole sweep through the cemeteries—is a vivid reminder that freedom is not free. A monumental debt is owed here; though difficult to repay, we can quietly honor these selfless heroes and validate their eternal sacrifice with a visit. Perhaps there is a military cemetery near you (go to interment.net or the Commonwealth War Graves Commission), or maybe you wish to visit overseas where they fought and died. For Americans, overseas means ABMC.
American Battle Monuments Commission
Most U.S. citizens are familiar with the work performed by the American Battle Monuments Commission, or ABMC, but perhaps not in detail. Moviegoers will remember the opening and ending scenes of "Saving Private Ryan," which were filmed at the ABMC cemetery at Colleville-sur-Mer, Normandy, France, where 9,387 heroes rest peacefully (and where you'll find the following quoted passage chiseled into its chapel wall). Visitors to the National Mall in Washington, D.C. will be familiar with the World War II Memorial, originally established by the ABMC and unveiled in the year 2004 to honor the 16 million veterans who served during this period in the U.S. Armed Forces, the more than 400,000 who died, and the millions who supported the war effort on the homefront.
"THINK NOT ONLY UPON THEIR PASSING, REMEMBER THE GLORY OF THEIR SPIRIT" 
The ABMC is an independent agency of the Executive Branch of the United States federal government responsible for commemorating the courage and sacrifice of the American Armed Forces through the erection of memorials and for designing, constructing and maintaining permanent American military cemeteries overseas where the Armed Forces have served since their entry into World War I: April 6, 1917.
In 1923, Congress enacted legislation creating the ABMC, and the incumbent U.S. president, Warren G. Harding, appointed General John J. Pershing to chair the committee—a position in which he served until his death in 1948. Succeeding him was another distinguished general, George C. Marshall. Today, the ABMC administers and maintains 25 permanent American military burial parks (all of which are listed in this guide with the exception of Clark Veterans Cemetery in the Philippines), as well as 27 monuments, memorials and markers in 16 countries. Currently there are 30,921 war dead interred in these cemeteries from World War I (26% of recovered fallen); 93,213 from World War II (23% of recovered fallen); and 750 from the Mexican-American War, totaling 124,884 U.S. servicemen and women buried outside the borders of their home country. In addition, there are 60,317 names of comrades still listed as missing in action to be honored within the 22 World War I and World War II ABMC cemeteries.
Burial
By war's end (WWI & WWII), the bodies of deceased Americans were interred in hundreds of temporary cemeteries, formed on or near the battlefield, with wooden crosses staking individual plots. Laws entitled the next of kin to either select permanent burial of a loved one's remains in an ABMC cemetery on foreign soil or to repatriate the body to the United States for interment in a national or private cemetery. Occasionally, when the choice was made by the next of kin to entrust their loved one with the ABMC, relatives would veto their wishes and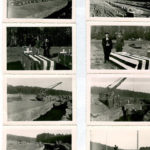 demand that the body be flown home, but family members making such demands were told the decision is final. However, after seeing the immense splendor and immaculate care of the commission's cemetery memorials, these same relatives often later admitted that they were pleased their loved one was left to be permanently interred in such a divine place—eternally resting with fellow comrades. At Luxembourg American Cemetery, for example, you can visit "Old Blood and Guts" positioned among the men whom he led to victory. (I can't imagine the general wanting to be anywhere else.) Note: ABMC cemeteries have been closed to burial for several decades now except on the rare occasion when the missing remains of a serviceman are recovered.
Inset: The adjacent picture sheet (click to enlarge) was sent to me by one of the caretakers at Luxembourg American Cemetery. It gives you a good idea of how the ABMC memorial parks looked prior to their landscaping. In this case, we get to see original photos of caskets lowered in precise symmetry as well as the burial ceremony (internment rite) with clergyman at Luxembourg, 1948-49.
---
Join our Belgium Beer & Battlefields tour and visit the cemeteries Henri-Chapelle, Luxembourg, Netherlands, and Flanders Fields with Harriman
---
The cemeteries
Unique are the ABMC cemeteries themselves; each is a masterpiece of landscape design, individually planned by distinguished American architects to forever enshrine the uncommon valor and selfless sacrifice demonstrated by U.S. servicemen and women. (It is exceedingly important to note that the land constituting these ABMC cemeteries has been gratefully and ceremoniously donated by the home country in perpetuity to the United States without charge or taxation.) All burials were explicitly arranged so that there would be no distinction or segregation according to rank, religion, origin, race or state; (essentially the deceased were buried as they arrived). Understandably, a few exceptions to the aforesaid regulation had to be made, such as the special allocation for brothers to rest side by side, or the instance in which the lush sod around General Patton's grave (at Luxembourg American Cemetery) became so trampled on account of the numerous visitors to his plot in 1946 that the legendary general was moved the following year to a unique location at the head of his troops. However, there is one corresponding aspect to each cemetery: the chapel—although designed differently, they are all "nondenominational."
The white-marble headstones that fill the cemeteries were quarried in Italy and subsequently erected with great care. To maintain precise symmetry across perfectly mowed lawns, each 125-pound headstone (Star of David for those of Jewish faith, a stylized Latin cross for all others) is cemented in place by way of a vast network of subsoil beams made from reinforced concrete.
To simply say that ABMC cemeteries are "beautiful" is a considerable understatement. They are divine, majestic, immaculate, serene, awe-inspiring, poignant, breathtaking, sacred, educational, "jewels of American history"—visit one and you'll know that it's hard to find the words to articulate such a place of glory—commemorative shrines marking the hallowed ground of fallen heroes, the selfless sons of a proud nation. Their sacrifice defines America.
In most cases these memorial parks are located on or near the battlefield where brave soldiers fell. But ABMC cemeteries are also intended for the living. "It is the visitors who give the cemeteries life and validate the tremendous sacrifice they represent," stated eloquently in the must-see Fields of Honor video below.
Unsurprisingly, to visit one of these memorial parks is a must-do experience sure to enrich your journey. Many cemeteries are within reach of popular travel destinations like Paris, Brussels and Florence. One is likely to be near a destination already on your travel itinerary. If not, make a detour.
Circa 1946-47
I've placed the following account here written by the late Warren Davis (Superintendent of Luxembourg American Cemetery from 1946-1969) to give you an idea of the overwhelming gratitude shared by all local nationals in the Grand Duchy toward their American liberators who lay in their thousands in a field outside the nation's capital beneath white-marbled headstones. Although this post-war narrative takes place in Luxembourg, the scene is unconditionally repeated throughout Europe at all ABMC cemetery locations where American soldiers fought and died so the world might live in peace and freedom.
"The Luxembourg people purchased the 43 acres of field and woodland which comprise the cemetery site and made it available to the [American] people without charge for perpetuity. The townspeople have donated both labor and material to assist the cemetery staff in developing the site. All the flowers and plants have been gifts, as well as road-building materials and many cemetery fixtures. These friends also beautify the plots with bouquets and wreaths on American holidays, on days of religious significance, and during the Christmas season.
"It should not be overlooked that the great preponderance of European visitors to the cemetery have come to the site to accomplish a 'pilgrimage of gratitude.' They decorate graves with thousands of flowers each week, even though they never knew the deceased. Prayers are offered almost hourly by fraternal and patriotic societies, by school children and scouts. A local train stops periodically near the grounds, and the passengers sing several hymns to the American dead before the train resumes its journey to the Moselle River country. These are gestures of profound sympathy and respect, the sincerity of which cannot be doubted."

Getting there: Directions to the burial parks are listed within each cemetery entry. But because of their often remote locations outside of populated centers, traveling by train (generally speaking) is not recommended—and taxis from the stations can be pricey (because buses don't often exist). Thus, I suggest you consider renting a car for a day or two and make the most of your excursion by leisurely cruising through the scenic countryside. Pack a picnic, a bouquet of flowers (for the soldiers), fire up the navigation system, and follow in the footsteps of freedom.
Hours and visitors' building: ABMC cemeteries are open daily 9:00-17:00 (except closed December 25 and January 1) but do yourself a favor and arrive at least 90 minutes prior to closing. All cemeteries have an indispensable "visitors' building" where a knowledgeable staff member is on duty to provide general assistance or help with locating the grave of a loved one. ABMC staff work daily to remember the service and sacrifice of the men and women buried and memorialized overseas. Thus, don't be shy, step inside, have a look around, say "howdy," pick up a cemetery brochure, sign the guest registry.
Note: Immediate family members of a fallen hero buried in an ABMC memorial park can request a letter to acquire a fee-free passport for overseas travel to visit the grave. (Allow 15 business days to process requests.)

Click to go to Lest We Forget: World War One
Click to go to Lest We Forget: World War Two
---
(Last updated January 2017)